CP Railway's Merger Track Runs Through Agency Scorning Big Deals
by
Regulator looms as carrier said to mull Norfolk Southern bid

U.S. review seen as risky after pain-with-gain consolidation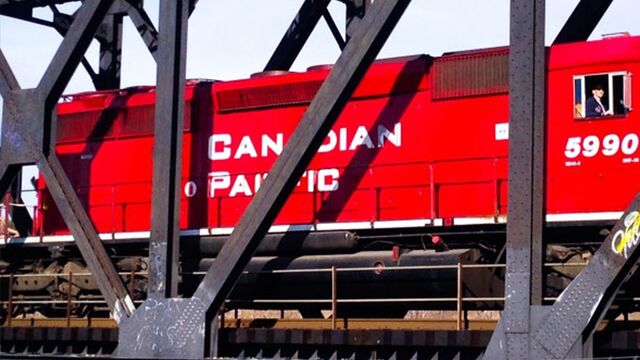 Canadian Pacific Railway Ltd.'s quest for a record merger depends on a blessing from the same U.S. agency that thwarted the last effort to build a transcontinental railroad.
Chief Executive Officer Hunter Harrison's target, people familiar with the matter said, is Norfolk Southern Corp., the No. 2 carrier in the eastern U.S. While investors savored the possible efficiencies in a coast-to-coast operation, getting to that point won't be easy.
First, Canadian Pacific would have to secure Norfolk Southern's consent. Then Harrison would have to win clearance from the U.S. Surface Transportation Board, which balked at a major cross-border tie-up in 2000 and has long been seen as opposed to more consolidation in an already shrunken North American industry.
"The hurdles are very high," said Mark Levin, an analyst with BB&T Capital Markets. "I don't think you can accomplish a hostile merger in this environment."
Congress's railroad deregulation in 1980 unleashed two decades of deals that cut the ranks of U.S. carriers to four large ones from about 20, alongside Canadian Pacific and Canadian National Railway Co. The tipping point came when BNSF Railway Co.'s former parent tried to combine with Canadian National: The STB imposed a 15-month merger moratorium followed by an additional review, and the companies dropped the idea.
Shipper Complaints
Shippers complaining about rising rates spurred the STB to act -- and since then, railroads have been reluctant to press for a final, blockbuster-consolidation push of the kind now being considered by Canadian Pacific.
"There is always a segment of the customers that want to re-regulate the industry," said Tony Hatch, who tracked many of the 1990s mergers as a Wall Street analyst and now runs ABH Consulting. "This would open that up."
Norfolk Southern surged 11 percent on Monday, the most since 2008, after news of Canadian Pacific's interest. The shares slid 0.1 percent Tuesday to $88.57 at the close in New York, while Canadian Pacific fell 1.6 percent to C$185.78.
The Surface Transportation Board had no comment Monday on the prospects of a Canadian Pacific-Norfolk Southern combination, spokesman Dennis Watson said. Neither did Calgary-based Canadian Pacific, whose market value of $C29 billion ($22.9 billion) is smaller than Norfolk Southern's $26.5 billion.
While Norfolk Southern also stayed silent Monday, the railroad's incoming chief executive officer wasn't hesitant to scoff about consolidation during a Sanford C. Bernstein & Co. conference in May.
Merger Risks
"It would be fraught with risk, risk of open access, impositions, other conditions that would detract from the economics of the industry today," Jim Squires said at the event before his planned elevation to CEO on June 1. "The risks associated with bringing a merger to the STB are very significant."
Canadian Pacific's interest in a merged railroad stretching from the Pacific port of Vancouver to the U.S. East Coast bubbled to the surface more than a year ago, in talks with CSX Corp. that ultimately went nowhere. CSX competes with Norfolk, Virginia-based Norfolk Southern in the eastern U.S., so the benefits -- and pitfalls -- would be similar.
"Everybody has to be on the same page on the railroad side and be able to sell the benefits of this to shippers because they're going to be potentially nervous," said David Tyerman, an analyst with Canaccord Genuity Inc.
With the U.S. in the middle of a presidential election campaign, the timing also couldn't be worse for a foreign buyer, Tyerman said. Candidates could whip up public opinion against the deal that might influence regulators.
Political Pressure
The three members of the Surface Transportation Board are presidential appointees, and the agency is no stranger to political pressure. When Union Pacific Corp.'s $5.4 billion acquisition of Southern Pacific Rail Corp. spawned freight logjams in 1997 and 1998, some lawmakers scolded the STB about balancing railroad and shipper needs.
"The mergers in the '90s were extremely useful and helped create a stronger industry, but they were also extremely painful," Hatch said. Regulators may be unwilling to risk the disruption to the industry for less of a payback, he said.
Berkshire Hathaway Inc.'s BNSF takeover in 2010 valued the carrier at about $34 billion. But Warren Buffett's Berkshire isn't a railroad. Transactions within the North American industry this century have been involved smaller operators, such as Canadian Pacific's 2007 purchase of Dakota Minnesota & Eastern Railroad Corp. for $1.48 billion.
Harrison, 71, has been part of the consolidation wave. He was a buyer when he ran Illinois Central Corp. -- which later was sold to Canadian National -- and again when leading CN. He acquired most of the Elgin Joliet & Eastern Railway Co. for $300 million in 2007.
Canadian Pacific and Norfolk Southern have little overlap, which eases the regulatory challenges for a deal, said Lee Klaskow, a Bloomberg Intelligence analyst. Approval would probably take two years or more based on recent deals. The review of EJ&E took 15 months, Klaskow said.
"Do you really want to own an asset, but not control it for two years?" Klaskow said. "It's like buying a car and not being able to drive it."
Before it's here, it's on the Bloomberg Terminal.
LEARN MORE