politics
Capital One Defends Garrett Donation Amid Anti-Gay Controversy
By
Firm says it bases political giving on ``core'' banking issues

Support for LGBT rights, marriage equality cited in letter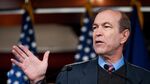 Capital One Financial Corp. is defending a donation to a Republican congressman facing a backlash over alleged anti-gay remarks, saying it bases political giving on business interests rather than social issues.
In a letter explaining its financial support for New Jersey Representative Scott Garrett, head of a House panel that oversees the banking industry, Capital One took great pains to tout its commitment to lesbian, gay, bisexual and transgender rights. Still, the bank stressed that it makes political action committee contributions based on different criteria.
"Members of Congress must take positions on a wide range of important issues and members should be evaluated by voters on issues that are important to them," the bank wrote. "We believe that maintaining a PAC focused exclusively on issues that are core to the banking industry is the most effective way for us to evaluate candidates."
Capital One's Oct. 26 letter to a Democratic state senator who has called out a dozen companies over their contributions to Garrett shows some of the potential pitfalls corporations face when they participate in the political process. It is especially tricky when giving to a lawmaker like Garrett, whose conservative views on social issues increasingly overshadow his pro-business policies.
Campaign Finance
A number of Wall Street firms, including Goldman Sachs Group Inc., stopped donating to Garrett after Politico reported in mid-July that he had complained in a private meeting about his party recruiting gay candidates.
Capital One was the only company to respond to New Jersey Senate Majority Leader Loretta Weinberg, who wrote to the corporations last month urging them to take "a stand against hate" and ask for their money back. Another bank targeted by Weinberg, BBVA Compass, told a New Jersey newspaper, The Record, that it would stop giving Garrett money.
The lack of corporate donations has hurt Garrett. His likely Democratic opponent, Josh Gottheimer, a Microsoft Corp. executive and former President Bill Clinton speechwriter who is running a pro-business campaign, outraised Garrett 2-1 in the most recent quarter.
First elected to Congress in 2002, Garrett is known as a staunch conservative who is willing to buck his own party's leadership. As the chairman of the House Financial Services capital markets subcommittee, he has pushed legislation to soften regulatory restrictions on Wall Street. While Garrett's fundraising has lagged recently, his campaign still has $2.3 million in the bank, according to public filings. Gottheimer has about $934,000.
Julie Rakes, a spokeswoman for Capital One, declined to comment. The bank, based in McLean, Virginia, employs more than 42,000 people across the U.S., including 850 in New Jersey.
Values Diversity
In its letter, signed by Andres Navarrete, an executive vice president, Capital One noted that it has worked throughout its history "to build and maintain a culture that values diversity and provides a supportive business environment that offers opportunity and respect, and encourages inclusion."
The bank went on to say it offers same-sex partner benefits, supports the recent Supreme Court decision on marriage equality and has a "thriving LGBT Network" with more than 900 members and 18 chapters.
Capital One is facing scrutiny partly because its contribution to Garrett came about two weeks after his comments surfaced in the media. The bank said in the letter that the $2,000 donation had been approved internally before the controversy erupted.
A spokesman for Garrett didn't respond to a request for comment.
State Senator Weinberg, in an interview, said she finds it difficult to square Capital One's arguments. Human rights, she said, should trump policies that are important to the banking industry.
"I hope Capital One thinks twice" about future donations, Weinberg said. "Now is the time to put your collective money where your mouth is. Or in this case, not put it."
Before it's here, it's on the Bloomberg Terminal.
LEARN MORE