Cameron Gambles EU Place on Tighter Migrant Welfare Rules
by
Prime minister to publish letter setting out demands

Restricting welfare could breach EU discrimination rules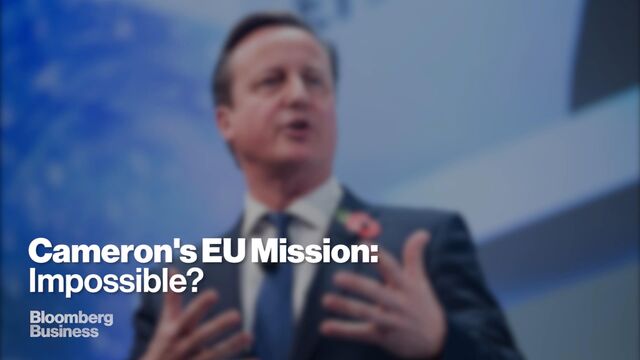 David Cameron will stake Britain's place in the European Union on his ability to restrict welfare payments to people coming to the U.K. from elsewhere in the bloc.
QuickTake Will Britain Leave the EU?
In a letter to EU President Donald Tusk to be published on Tuesday morning, the prime minister will set out demands to change the U.K.'s relationship with the EU in four areas. They are: protecting the rights of countries outside the euro zone; increasing economic competitiveness within the EU; giving national parliaments more powers; and restricting welfare rights for non-U.K. citizens. The fourth is likely to be the trickiest, as it could break EU rules against discrimination between nationals of different countries.
"There will be those who say –- here and elsewhere in the EU –- that we are embarked on Mission Impossible," the prime minister will say in a speech in London ahead of the letter's publication. "I do not deny that seeking changes which require the agreement of 27 other democracies, all with their own concerns, is a big task. But an impossible one? I do not believe so for a minute."
Welfare Rules
Cameron is unlikely to be asking for anything that he doesn't think he can deliver. Failure to do so would be used as an argument against him by those who want Britain to vote to leave the EU in the coming referendum on membership.
In the speech, Cameron will refer to his Conservative Party's election platform, which promised to stop EU migrants from claiming in-work welfare payments until they have lived and worked in the U.K. for four years. This, the party said, would lead to reduced immigration. Those who want to leave the EU say its free-movement rules mean that leaving is the only way to properly control the number of people coming to the U.K.
Cameron's demands will be the focus of discussion at December's European Council meeting in Brussels. Although the prime minister's self-imposed referendum deadline is 2017, officials are aiming for a deal that would allow a vote next year.
National Security
The full letter to Tusk will be presented to Parliament as a written ministerial statement. Europe Minister David Lidington will then answer questions on it from lawmakers.
Cameron's goal is to keep Britain in the EU by delivering enough to satisfy the soft supporters of exit. He has started to link the case for staying in to national security, with his spokeswoman noting Monday that Europe had stood up to Russia over Ukraine, helped halt Iran's nuclear program and tackled piracy off Somalia.
In writing the letter, Cameron has had to appear ambitious, without setting himself up for a failure that could damage his referendum chances.
Before it's here, it's on the Bloomberg Terminal.
LEARN MORE