Are Women Competitive Enough to Get Good Salaries?
The results of a math tournament say they are.
By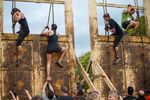 The gender pay gap is a little bit like climate change: We may never stop arguing about whether, and why, it exists. The latest contribution to the debate comes from three professors who argue in a new paper that women earn less than men because they are less competitive.