Allergan CEO Says Some Peers Deserve Drug Price Scrutiny
by
Saunders believes in a `social contract' for drug pricing, R&D

Allergan doesn't see good fit with Valeant as acquisition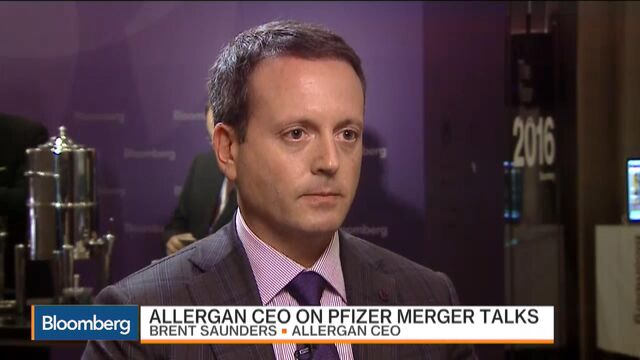 Some drugmakers are getting the scrutiny they deserve over how much they charge for their products, according to Allergan Plc's top executive.
"There are a few companies that were very aggressive and perhaps took it too far, and deserve the attention they are getting," Chief Executive Officer Brent Saunders said in an interview with Bloomberg TV Tuesday. "I think it's good. Transparency helps solve some of these issues."
Drug pricing has become a major issue in the pharmaceutical industry, with companies such as Valeant Pharmaceuticals International Inc. and Turing Pharmaceuticals AG facing questions from investors and lawmakers.
Allergan is in friendly talks to be acquired by Pfizer Inc. in what could be the largest health-care deal of all time, and the culmination of Allergan's growth from a small generic drugs company into one of the industry's biggest players.
Asked whether he might buy Valeant, whose stock has fallen almost 70 percent since an all-time high in August, Saunders said it wasn't necessarily the right fit.
"The things we look to buy are really first-in-class drugs, growth assets," said Saunders. "There are a few of those in Valeant but there are also a lot of older medicines. It does not fit perfectly with the business model and the types of things we've been buying."
An outside spokeswoman for Valeant with Sard Verbinnen & Co. declined to comment.
Saunders said that Allergan's revenue growth was mostly from selling more of its drugs, not raising prices. "We're not focused on taking price increases," he said. "I believe we have a social contract to make sure we invest in R&D and we take our drug pricing very responsibly."
Allergan said it spent about $305 million on research and development in the third quarter, or 7.5 percent of sales, while Valeant said spent about $102 million, or 3.7 percent of sales. Allergan's R&D spending doesn't include one-time items. On average, the world's 10 biggest drugmakers spent about 16 percent of revenue on R&D last year, according to data compiled by Bloomberg.
At the same time, Allergan has been criticized for other practices. The company, then known as Actavis, was sued by New York Attorney General Eric Schneiderman over its Alzheimer's disease drug Namenda. Schneiderman claimed that the drugmaker limited access to Namenda in order to force patients to start taking an extended-release version, before cheap generics came onto the market and undercut sales of the older, once-a-day treatment. The company has said that the extended-release version offers advantages for patients.
Before it's here, it's on the Bloomberg Terminal.
LEARN MORE