With Handshake, China's Xi Seeks to Get Grip on Taiwan Election
by and
Meeting with island's president narrows successor's options

Opposition leader Tsai retains big lead in opinion polls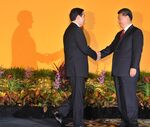 Flash back to March 2000: Taiwan appeared set to elect an opposition leader as president and upset Beijing's relationship with Taipei. Then-Chinese Premier Zhu Rongji issued a finger-wagging ultimatum.
"Do not just act on impulse at this juncture, which will decide the future course that China and Taiwan will follow. Otherwise, I'm afraid you won't get another opportunity to regret," Zhu said. Taiwan responded days later by handing Chen Shui-bian -- candidate for the pro-independence Democratic Progressive Party -- a decisive win and throwing an eight-year chill over ties between the former civil war foes.
Current Chinese President Xi Jinping is trying a more nuanced approach. In his meeting Saturday with outgoing Taiwanese President Ma Ying-jeou, Xi put the relationship across the Taiwan Strait in clear terms: Stick together, and prosper. Shake things up, and sink the peace. In other words, Taiwan would face the same choice, whether or not the current frontrunner, DPP Chairwoman Tsai Ing-wen, wins the presidency in January.
"The warning is not intended to change the election outcome, but to influence the landscape of public opinion post-election, so as to provide a stronger incentive for Tsai to avoid disrupting the cross-strait status quo," said Andrew Nathan, a professor of political science at Columbia University. "This is a message intended to narrow the DPP's maneuvering space, in the sense that they would not dare to pull another Chen Shui-bian set of initiatives." 
Opinion Polls
Communist Party leaders in Beijing are seeing the same public opinion polls that have for months shown Tsai with a wide lead over Ma's Kuomintang, or Nationalist Party, in the Jan. 16 vote. She's leading KMT Chairman Eric Chu by 43 percent to 27 percent, according to a TVBS survey conducted Sunday. That's compared with 46 percent to 29 percent in a similar poll last month.
The 80-second handshake between Xi and Ma was the first encounter between top leaders from the two sides since Chiang Kai-shek's Nationalists fled across the Taiwan Strait in 1949. The meeting represents a new high point in efforts to resolve the unsettled civil war and Ma's seven-year campaign to bolster economic ties with the mainland.
"The Ma-Xi summit won't be a game-changer for Taiwan's election," said Alexander Huang, a professor at Tamkang University's Graduate Institute of International Affairs and Strategic Studies in Taipei. "The campaign will soon be over, and the government may change, but cross-strait relations will continue."
China Trade
The tete-a-tete does, however, ensure the China issue stays at the center of the debate for the last weeks of the campaign. Just more than one-quarter of Taiwanese favor eventually achieving independence, according to a government survey in July, while about 10 percent support reunification as the goal. 
China can appeal to both economics -- it accounts for roughly 40 percent of Taiwan's exported goods and services -- and culture. The Communist Party on Monday announced a "grand" celebration next year to mark the 150th anniversary of the birth of revolutionary leader Sun Yat-sen, a unifying figure respected by both sides.
Most Taiwanese -- about 57 percent -- want to preserve the current state of affairs. Those relations have for more than two decades been based on the so-called one-China principle and the "1992 consensus." Under that framework, both sides have agreed they're part of China, even if they disagree what that means. 
"Of course we were part of that country, but now, after so many years we have a different way of life," Chen Zheng-yi, 75, who volunteers for a Buddhist organization, said in Taipei on Monday. "All we want is for there to be peace and the chance to do business with each other, so they're better off and we're better off and we are not at war."
'Status Quo'
While her party officially supports independence, Tsai has vowed to uphold the "status quo" with Beijing and hasn't ruled out her own meetings with Xi, provided there are no preconditions.
"Dr. Tsai will champion the peaceful and stable development of cross-strait relations in accordance with the will of the Taiwanese people and the existing ROC constitutional order," Chao Tien-Lin, the DPP's China affairs director said, using shorthand for Taiwan's formal name. Both sides "should treasure" their flourishing ties, Chao said.
What Tsai hasn't done is state her stance on the one-China principle. Repudiating it would risk angering Beijing. At the same time, the meeting between Xi and Ma made it harder for her to stay silent about whether she considers the concept to be part of the status quo.
1992 Consensus
Both leaders Saturday reaffirmed the one-China principle and the 1992 consensus as the foundation for developing ties. After the meeting, Tsai criticized Ma for failing to emphasize the importance of democracy and for creating a "political framework limiting the choices of Taiwan people."
"She will have to walk a tight rope," said Joseph Fewsmith, a political science professor at Boston University who studies China's elite politics. "This meeting will force the DPP to have conversations they seem to have been avoiding. And it raises the costs of any effort to repudiate the one-China framework."
Before it's here, it's on the Bloomberg Terminal.
LEARN MORE