Mallinckrodt's $35,000 Drug Is Back in the Spotlight
by and
Acthar, then owned by Questcor, was subject of earlier reports

Stock rebounds Tuesday after interview with short-seller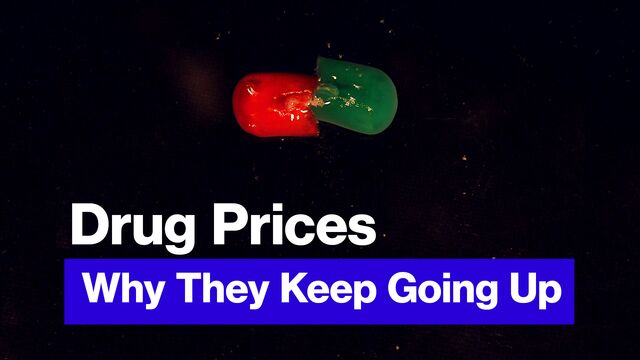 A decades-old drug whose price surged after its maker was acquired is back in the spotlight thanks to a notorious short-seller's scrutiny.
H.P. Acthar Gel, extracted from the pituitary glands of pigs and used for patients with lupus, multiple sclerosis and other conditions, rose from $1,235 a vial in 2005 to $29,086 a vial in 2008, according to Red Book, a directory of drug prices. The increase caused an uproar, long before such price hikes became so common that they're now an issue in the presidential campaign. A vial now costs about $35,000, according to price comparison site GoodRx.
Shares of Mallinckrodt Plc, the drug's current owner, plunged Monday, after a tweet by Citron Research. Citron is a stock-commentary site whose owner, Andrew Left, has a position betting Mallinckrodt will fall.
They partly recovered Tuesday, rising 9.9 percent to $63.74 at 1:05 p.m. in New York, after Left gave an interview with CNBC where he focused his criticism on Acthar, rather than on any new revelation about Mallinckrodt.
A Mallinckrodt spokesman said Monday that while the company doesn't typically respond to market speculation, "we are fully confident in our business model and remain focused on executing on our long-term growth strategy." The company reports fiscal fourth-quarter earnings on Nov. 23 and is holding an additional investor briefing on Dec. 7.
Valeant Comparison
Left had said Monday that Mallinckrodt has "significantly more downside" than the company previously in his focus, Valeant Pharmaceuticals International Inc. That tweet overshadowed another piece of bad news for Acthar. The drug missed its primary goal in a trial of patients with a type of lupus that can harm the skin and joints.
"The market has been so focused on Valeant that they forgot about other platform companies who are levered and face the same headwinds in reimbursement," Left said in an e-mail Monday. "We already see these challenges at Mallinckrodt."
Left has been focusing on Acthar since before Mallinckrodt acquired the drug when it bought Questcor Pharmaceuticals Inc. last year for about $5.6 billion. Citron had previously published several reports criticizing Questcor's labeling of Acthar's ingredients before Mallinckrodt acquired the company. One of those commentaries sent Questcor stock down 23 percent over three days last year.
$100,000 Acquisition
The price increase -- and Left's research -- drew the attention of the New York Times in a 2012 story about Questcor, which the newspaper said lost money on the drug until the price increase. The drugmaker had acquired the rights for the drug for $100,000 in 2001 and did almost no research or development on the treatment, the newspaper said at the time. Then Questcor began marketing the medication for multiple sclerosis and other ailments, going beyond its principal use of treating infantile spasms, the Times reported.
Insurer Aetna Inc. placed limits on coverage of the drug in 2012, saying it was only medically necessary for infant seizures. Cigna Corp. and UnitedHealth Group Inc. have also restricted access to the medication, ProPublica reported last year. That article said the drug cost Medicare more than $141 million in 2012, up from $7 million in 2008. Spending on Acthar in 2013 through Medicare, the U.S. insurance program for the elderly and disabled, was $262.6 million, the government disclosed this year.
Prior Authorization
Express Scripts Holding Co., the biggest U.S. manager of drug benefits, covers Acthar but relies on an "aggressive" prior authorization process to ensure it's predominantly used by infantile spasm patients, according to a spokesman. Express Scripts' Accredo pharmacy unit is one of 11 specialty pharmacies that distribute the drug, said a spokesman, David Whitrap.
Until recently, the attention on Acthar did little to dissuade Mallinckrodt investors. Top holders include hedge funds Paulson & Co. and Viking Global Investors LP, both of which declined to comment Monday. From the closing of the Questcor deal in August 2014, the shares surged 85 percent to a peak of $132.51 on March 18 of this year, compared with a 7.4 percent gain in the Standard & Poor's 500 Index.
Then came an August earnings report in which the company fell short of analysts' estimates, partly because of Acthar sales. Mallinckrodt Chief Executive Officer Mark Trudeau said on a conference call that month that the company was facing resistance from insurers to reimbursement for products like Acthar, its biggest seller.
Making Headway
The company had expanded its distribution channel to six specialty pharmacies, from one, he said. But Mallinckrodt said then that revenue growth from the drug would be "towards the lower end of our range for the next several quarters until we can make further progress on the payer environment." In October, Trudeau said the company was making headway with insurers.
Still, the shares have tumbled, and through Monday were down 56 percent since the March peak.
"We have gone in and spoken to payers about how best to position Acthar for appropriate patient types, and we're getting very good traction," Trudeau said on CNBC Tuesday.
Before it's here, it's on the Bloomberg Terminal.
LEARN MORE