When Bloomberg Employees Predict the Future
Look into our crystal ball and all will be revealed!
Bloomberg News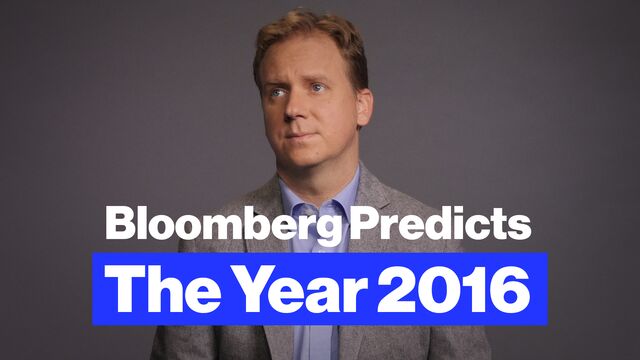 Every year around November or December, many journalists get an assignment they will probably hate. That assignment is, of course, to write about what will happen in the coming year – in other words, to predict the future.
Bloomberg reporter Josh Eidelson summarizes the problem aptly: "The predictions we're most likely to remember are the ones that were the most dramatically, hilariously wrong."
And yet, thinking about what could happen in the future is part of human nature, and sometimes it can even be fun. So, at the risk of great personal and professional humiliation, 30 Bloomberg reporters have given their predictions for what will happen in the year 2016. Here are some of their choicest prognostications.
"Someone you know will move to Iowa, because it's the only place they can afford a house." – Patrick Clark, real estate writer, Bloomberg Business
"Virtual reality headsets will launch in great abundance, and quickly be relegated to the world of video games." – Jeff Muskus, senior technology editor, Businessweek
"We're going to spend less time tapping on screens, and more time talking to computers like we would talk to people." – Stephen Pulvirent, associate editor, Bloomberg Pursuits
 "There will be more emissions cheating scandals like what we saw at Volkswagen. If one company's doing it, others probably are too." – Tom Randall, science and energy writer, Bloomberg Business
"We will not see a self-driving car in 2016." – Cory Johnson, anchor, Bloomberg West
"I think we're going see a lot of these unicorn startups start to crumble a little bit." – Eric Newcomer, tech reporter, Bloomberg
 "Kim and Kanye are going to get divorced. By next year, they will have had two kids, they did the marriage – the only way they can get more attention now is if they get divorced." – Hannah Elliott, car and culture columnist, Bloomberg Pursuits
"Another pop star will pull their music off of streaming services. Ryan Adams could pull his cover of Taylor Swift's album off of Spotify. Meta." – John Tozzi, healthcare reporter, Bloomberg
 "Oil prices will go lower." – Alix Steel, co-anchor, Market Day
"Hell may freeze over, fat ladies may burst into song all around the world, but the Eurocrisis will not be solved." – John Micklethwait, editor-in-chief, Bloomberg
"I predict 2016 is the last year you can visit Cuba before it's overrun by cruises." – Justin Ocean, deputy editor, Bloomberg Pursuits Digital
"Tom Brady will win the Super Bowl and the appeal of the Deflategate case in the same week." – Ira Boudway, writer, Businessweek
"The United States Supreme Court will have the opportunity to overrule Roe v. Wade, but they will not do it." – Paul Barrett, senior writer, Businessweek
 "Voter turnout in the presidential election will fall to its lowest level in 20 years." – Mark Glassman, graphics, Businessweek
"It's gonna be the most expensive election in history." – Allison Hoffman, politics and policy editor, Businessweek
"The Republic of Texas, under its new president, Ted Cruz, will finally secede and run its own affairs." – Frank Wilkinson, editor, Bloomberg View
"Bernie Sanders will not be Hillary Clinton's Secretary of Defense." – John Heilemann, co-managing editor, Bloomberg Politics
"Al Gore will not be elected President… I think." – Mark Halperin, managing editor, Bloomberg Politics
"I think California will get some rain, but not enough to offset the drought." – Scarlet Fu, anchor, Bloomberg TV
"We will all have sit-stand-napping-treadmill desks." – Rebecca Greenfield, work culture reporter
"My prediction for 2016 is incredibly vast and historic and international levels of peace and prosperity and happiness." – Max Abelson, reporter, Bloomberg News

Before it's here, it's on the Bloomberg Terminal.
LEARN MORE