What It's Like to Bring Your Mom to Work
Bring In Your Parents Day is a thing—and it's all LinkedIn's fault.
by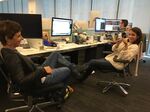 "Shhh, Mom. Lower your voice. Mom, you're being loud." That's how Natalie Kitroeff, a reporter at Bloomberg, spent a good bit of Bring In Your Parents Day last week. Kitroeff's mom, unfortunately, mostly ignored her daughter's requests. 
Like many fake holidays, bring your parents to work day was pioneered by a brand. LinkedIn thought up the concept three years ago when a few employees realized that none of their parents knew how they spent their workdays. In fact, per research commissioned by LinkedIn, one in three parents don't understand their kids' jobs. It's hard for people of a certain generation to picture the day-to-day of a software developer or a mobile marketing manager, or even a modern Internet writer. 
At LinkedIn, Bring In Your Parents Day is a sanctioned workday when parents can learn about their kids' jobs. This year more than 70 businesses opened their doors to moms and dads, up from less than 20 the first year. At LinkedIn's Mountain View headquarters, the day starts with breakfast, followed by a welcome by Chief Executive Jeff Weiner and a panel where some employees describe their jobs. After lunch are more activities, including an office tour and networking opportunities.
For companies looking to host their own day, LinkedIn offers a "toolkit" that includes an invite for parents, a promotional poster, and an agenda of suggested events. The hope is that parents can offer up more informed career advice to their kids. The day should also make parents feel good about all the time and money they invested in their children. "It's a moment of gratitude," said Catherine Fisher, a career expert at LinkedIn. "The sense of pride that you see in parents' faces when they get to meet their child's boss and have a super understanding of what they do day to day."
Bloomberg does not officially celebrate Bring In Your Parents Day and only found out about its existence on Wednesday, Nov. 4, a day before the festivities. But Kitroeff got her mom, Anita Isaacs, to agree to come into the office for the day. Or at least part of the day—she had to leave early for a Pilates class at 3:00 p.m.
After a few introductions, Isaacs and Kitroeff sat down to work at adjacent desks in our open office plan. Unlike one in three parents, Isaacs didn't have a hard time grasping the specifics of her daughter's job. It's not that dissimilar to her own work: Isaacs is a college professor working on a book, and she brought her laptop in hopes of doing some writing. What she didn't understand was how Natalie gets anything done with all the distractions. "I would just watch soccer all day," she said, pointing to the three TV screens hanging above a bank of desks. She was also in awe of our dual-monitor setups, which have Twitter streaming on one side and e-mail blinking on the other. "I'm amazed that you guys can focus so much and be productive." (Little does she know ….)
What was distracting to Kitroeff was her mom. As she hopped on the phone, she shot her mom a self-conscious grin. "Doing actual reporting was hard," Kitroeff later said. "She was just sitting there."
About an hour into the day, Kitroeff had a meeting with her editor. "Do I come?" her mom asks. 
"No, Mom. No!" 
"I should see what your work day is like?"
"I think that's taking the day too far."
Kitroeff lost that battle, and Mom goes to the meeting. It ends up being the most enlightening part of the day for Isaacs, not because she learned something about her daughter's job. Instead it showed her the benefits of collaboration. Most of her work is solitary. "She has helped me in my career so much," Isaacs said, as her phone buzzed with Twitter mentions. She just had an op-ed run in the New York Times, something she never would have done without her daughter's encouragement. 
The day ended abruptly when Isaacs had to shuffle to her exercise class. Kitroeff is pro-parents at work. "There should be more parents at work. I like parents." As for Isaacs, she said she already had a pretty good idea of her daughter's workflow. "I don't have advice,"  she said. "I leave with admiration."
Before it's here, it's on the Bloomberg Terminal.
LEARN MORE