S&P 500 Tumbles Most Since September on Prospect of Higher Rates
by and
Benchmark drops for fourth day after approaching record high

Macy's and Kohl's slump while Norfolk Southern rallies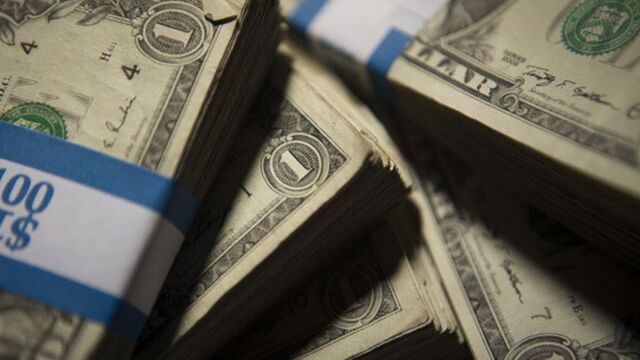 The Standard & Poor's 500 Index tumbled the most in more than a month as the possibility that the Federal Reserve will raise interest rates as early as December weighed on equities.
Investors had shrugged off the threat of higher rates on Friday, focusing instead on a robust jobs report that signaled the U.S. economy may be ready to withstand tighter monetary policy. That sentiment reversed Monday in the absence of any additional data and after American equities ended last week near the highest level in three months.
"People sort-of stewed on it over the weekend that we're facing a rate hike in December," said Robert Pavlik, who helps oversee $9.1 billion as chief market strategist at Boston Private Wealth. "I don't think it's the 25 basis points that's necessarily leading the market down, but what comes after. How fast and furious do the rate hikes come now that this cheap money environment is coming to an end?"
The S&P 500 slipped 1 percent to 2,078.58 at 4 p.m. in New York, the most since Sept. 28 and its fourth straight drop. The Dow Jones Industrial Average lost 179.85 points, or 1 percent, to 17,730.48. The Chicago Board Options Exchange Volatility Index jumped 15 percent, its biggest increase since September.
The day's selloff was broad-based. Multinationals with exposure to a stronger dollar were hit hard, with Caterpillar Inc. sliding 2.6 percent. Macy's Inc. and Kohl's Corp. led retailers lower. Mallinckrodt Plc plummeted 17 percent after the drugmaker was mentioned by the stock-commentary site whose scrutiny helped lead to a rout in Valeant Pharmaceuticals International Inc.
Norfolk Southern Corp. and Apache Corp. rallied on merger speculation, while utility shares had the only gains among 10 S&P 500 groups after plunging 3.6 percent Friday.
The S&P 500 is coming off its sixth straight weekly gain, a streak that pushed it within 1.5 percent of its May record. The S&P 500's rebound since suffering its first correction in four years has helped restore almost $2 trillion to the market value of U.S. stocks. 
"I'm sure a few people will want to use this moment to trim some positions -- it's only prudent," said Heinz-Gerd Sonnenschein, a strategist at Deutsche Postbank AG in Bonn, Germany. "We have to consider the levels we've reached now, given that the S&P 500 is only just slightly off its record."
The benchmark equity gauge rose 1 percent last week even as the best monthly employment report of the year pushed odds for an interest-rate hike in 2015 to as high as 70 percent. The surge in hiring spurred speculation that the world's largest economy is strong enough to withstand higher borrowing costs.
Global investors continue to adjust to the increased likelihood that America's benchmark rate will rise this year, a move that would end an unprecedented era of record-low borrowing costs. The policy-setting Federal Open Market Committee meets in Washington on Dec. 15-16, when it will decide on whether to raise the benchmark federal funds rate for the first time since 2006.
Federal Reserve Bank of Boston President Eric Rosengren said in remarks today that encouraging U.S. economic data coupled with emerging signs of risk-taking by some investors make it appropriate for the central bank to consider raising rates as soon as next month, while moving gradually thereafter.
Consumer-discretionary and energy stocks had the biggest declines among 10 groups in the S&P 500. Macy's and Kohl's declined more than 5.4 percent after Citigroup Inc. cut its earnings estimates for the companies, saying the industry is suffering from a sales slowdown and inventory glut.
Priceline Group Inc. dropped 9.6 percent, the most since 2012. The largest U.S. online travel agent gave a fourth-quarter earnings forecast range that trailed analysts' estimates as it faces competition from Expedia Inc. and Airbnb Inc.
Energy shares fell 1.5 percent, with Exxon Mobil Corp. and Chevron Corp. losing more than 1.8 percent.
Mallinckrodt plummeted as much as 26 percent after Citron Research said in a Twitter message that the company has "significantly more downside" than Valeant and is "a far worse offender" of the reimbursement system. The firm is led by short-seller Andrew Left.
Valeant shares have fallen more than 40 percent since Citron's report examined the drugmaker's relationship with specialty pharmacies and questioned whether the company was faking sales through its distribution channel -- an allegation Valeant has denied. Valeant rose 4.5 percent today.
Financial companies slumped 1.2 percent, as JPMorgan Chase & Co. and Bank of America Corp. retreated at least 1.5 percent. The Bloomberg U.S. Airlines Index dropped 1.5 percent while an S&P measure of home builders tumbled 1.6 percent. Technology companies also slid as International Business Machines Corp., Intel Corp. and Microsoft Corp. retreated at least 1.4 percent.
"I don't think anyone came into work today figuring that they had to load up on stocks," Peter Tuz, who helps manage $400 million as president of Chase Investment Counsel Corp. in Charlottesville, Virginia. "With the recovery of the market, there are fewer bargains than there were 6 or 8 weeks ago."
Some of the day's biggest winners were companies tied to acquisition news.
Norfolk Southern jumped 11 percent, paring a 2.2 percent drop in the Dow Jones Transportation Average, after people familiar with the matter said Canadian Pacific Railway Ltd. is exploring a takeover of the U.S. carrier in a fresh attempt to consolidate the North American industry.
Apache jumped 13 percent, its biggest jump since 2008, as people familiar with the matter said the oil and natural gas company has received an unsolicited takeover approach.
Plum Creek Timber Co. climbed 17 percent as Weyerhaeuser Co. agreed to buy the company for about $8.4 billion to create a real estate investment trust that will be the largest private owner of timberland in the U.S.
Weight Watchers International Inc. added 3.5 percent after Steven A. Cohen's Point72 Asset Management reported a new stake in the company. Weight Watchers has more than tripled since announcing a partnership with Oprah Winfrey last month. The shares soared 35 percent Friday as quarterly results topped analysts' estimates.
Dean Foods Co. gained 7.3 percent, the most in a year. The largest U.S. dairy processor posted third-quarter profit and forecast earnings for the fourth quarter that both topped analysts' estimates as it benefits from a decline in raw-milk costs.
Before it's here, it's on the Bloomberg Terminal.
LEARN MORE