U.S. Gas Futures Slide as Record Stockpiles Seen in Mild Weather
Naureen S. Malik
Temperatures will be above normal over the next 15 days

Natural gas inventories matched record in latest week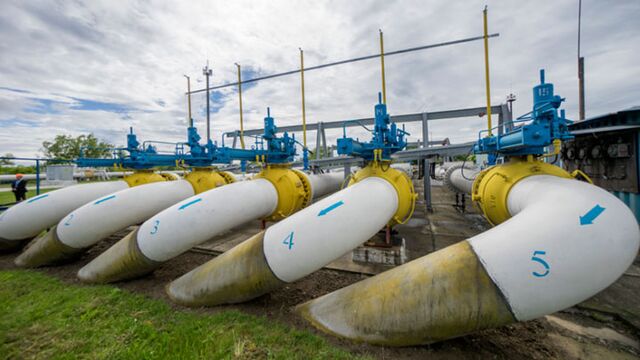 Natural gas futures slid for the first time in four days on speculation that stockpiles will set a record as mild weather limits demand for the heating fuel. 
Temperatures will be above normal from the Midwest through the Northeast over the next 15 days, according to MDA Weather Services. The warmth will also spread across the Southeast on Nov. 19 through Nov. 23. U.S. gas inventories rose to 3.929 trillion cubic feet on Oct. 30, matching an all-time high. 
"It looks like we have two weeks of storage injections still and the forecasts aren't showing strong heating demand," said Gene McGillian, senior analyst at Tradition Energy in Stamford, Connecticut. "We still have a real glut of gas in the market."
Natural gas for December delivery fell 7.1 cents, or 3 percent, to settle at $2.30 per million British thermal units on the New York Mercantile Exchange. Prices ended last week at $2.371, the highest since Oct. 22. Futures are down 20 percent this year.
December $2.80 calls were the most active options in electronic trading, slipping 1 cent to 0.7 cent on volume of 2,253 contracts at 2:52 p.m.
Money managers boosted their bearish bets to a record high for the third straight week in four gas contracts. Net-short positions increased 6.8 percent to 166,165 futures equivalent in the week ended Nov. 3, U.S. Commodity Futures Trading Commission data show.
"The market remains in an overall long-term downtrend but in an extreme oversold condition," Dominick Chirichella, senior partner at the Energy Management Institute in New York, said in a report to clients Monday.
Mild Weather
The high temperature in Manhattan on Nov. 18 will be 62 degrees Fahrenheit (17 Celsius), 9 above normal, AccuWeather Inc.'s website showed. The next day, Cleveland's reading will be 7 higher than average at 57. About 49 percent of the country's households use gas for heating, led by the Midwest and the Northeast.
Gas inventories last week topped the previous record reached in November 2012, according to analyst estimates. 
Chirichella said he is expecting inventories to expand by 51 billion. Tim Evans, an energy analyst at Citi Futures Perspective in New York, is predicting a gain of 78 billion, which would boost storage levels above 4 trillion, according to a Nov. 9 note to clients. The five-year average increase for the period is 23 billion.
The U.S. Energy Information Administration is delaying the release of its next storage report by one day to Nov. 13 in observance of the Veterans Day holiday Wednesday.
Gas production from the seven largest shale deposits will fall in December for the sixth straight month, the EIA said in a report Monday. The Marcellus shale in the East, which accounts for 35 percent of shale gas, will lead the declines with a drop of 229 million cubic feet a day to 15.664 billion from this month, the least since November 2014.
Before it's here, it's on the Bloomberg Terminal.
LEARN MORE