U.K. Weathers Global Pressure as Firms Fret About Currency
by
Business organization expects U.K. to grow 2.4% in 2015

EU referendum uncertainty isn't impacting businesses yet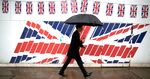 The U.K. is weathering global headwinds for now and businesses have yet to be ruffled by an impending tightening in monetary policy or the prospect of a British exit from the European Union, according to the Confederation for British Industry.
The U.K.'s biggest business lobby said companies are focused on more pressing issues, including a strong pound weighing on exports, cooling global demand and a shortage of skilled workers. It also made modest downgrades to its growth forecasts this year and next and now sees expansion of 2.4 percent and 2.6 percent.
"The U.K. is resilient and is shining bright against a much more mixed global backdrop," Rain Newton-Smith, CBI director of economics, told reporters in London on Friday. "We know there will be plenty of bumps in financial markets to test that resilience in the months ahead, as well as in the global economy, and we'll need to hang on tight."
Bank of England Governor Mark Carney said on Thursday that the pace of growth has "ticked down" and progress has been mixed. While domestic demand is strong, global threats and record-low inflation mean the central bank is keeping the benchmark interest rate on hold for now.
Pound Challenge
The pound continues to pose a challenge for the BOE as its strength hits export-facing firms and the manufacturing industry. A trade-weighted measure of sterling has jumped 5.5 percent in 2015, heading for its biggest annual gain since 2009. It touched the highest since August on Nov. 4, before sliding 0.8 percent after the Bank of England cut its growth and inflation forecasts the next day.
Britain's economy will grow 2.4 percent in 2015 and 2016, and it would be "prudent" of the BOE to raise interest rates from a record low early next year to head off price pressures, the Organisation for Economic Co-operation and Development said in a separate report on Monday.
EU Referendum
Britain's referendum on EU membership -- which Cameron has promised to hold before the end of 2017 -- isn't worrying businesses just yet, the CBI said. The group supports staying in a reformed EU and has identified four areas it would like Cameron to renegotiate, director John Cridland said on Friday. They include a headline agreement on the Transatlantic Trade and Investment Partnership before President Obama leaves the White House. Businesses would also like to see more regulatory reform and a more harmonious relationship between the EU and London's finance industry.
"The U.K. economy's continued strong performance is a clear sign of its resilience in the face of turbulent times overseas," Cridland said. "Manufacturers are enduring tougher conditions, as a persistently strong pound is hamstringing our export competitiveness, alongside dampened global growth. But our domestic story is strong."
Before it's here, it's on the Bloomberg Terminal.
LEARN MORE