St. Louis Fed: There Is No Chance Inflation Will Be Out of Control Over the Next Year
A new inflation model suggests big price increases are still far away.
by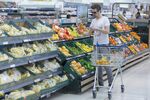 Continued improvements in the labor market and robust wage gains in October have bolstered monetary policymakers' confidence that inflation will trend back toward their 2 percent target in the medium term.
And, according to a new model published by the St. Louis Fed, they can be even more confident that inflation won't get too far ahead of their target over the next year.
In the regional Fed bank's latest edition of Economic Synopses, researchers Laura Jackson, Kevin Kliesen, and Michael Owyang detailed the creation of a new index called the Price Pressures Measure, or PPM. This index attempts to determine the likelihood that the average inflation level over the next year will be within a certain range, such as between zero and 1.5 percent.
It's a worthy goal since inflation is of paramount importance to central banks, but gauging where it's set to go next has proved challenging.
Indicators for the public's inflation expectations matter to central banks. Any substantial deviation from the norm, whether to the upside or downside, sends a signal that people doubt monetary policymakers are adequately committed to meeting a preordained inflation target, or worse, that they lack the necessary firepower to do so.
As such, inflation expectations, and models that aim to forecast how high or low inflation could go over a certain time frame, help central bankers balance the risks involved with setting policy.
The St. Louis Fed researchers used data from financial markets, realized consumer and producer inflation, commodity prices, real estate prices, the labor market, inflation expectations, survey data, and foreign price trends to put together this model.
According to the new PPM model, there is no reason to fear that inflation will be running well above the Federal Reserve's target over the next 12 months:

"During this most recent business expansion, with inflation averaging less than 2 percent, the PPM averages well under 0.5," they wrote. "As of October 2015, the PPM predicts a zero percent probability that PCEPI inflation [Personal Consumption Expenditure Price index] will average more than 2.5 percent over the next 12 months."
On the surface, and taken in isolation, this model implies that if the Fed lifts interest rates in December to combat inflation, it will be fighting a phantom.
On the other hand, monetary policy acts with long and variable lags: Fed officials believe that it takes from one to two years for changes in policy to have their full impact on the real economy.
That's why Fed Vice Chairman Stanley Fischer stressed that "we should not wait until inflation is back to 2 percent to begin tightening" at the Jackson Hole symposium in August. 
Before it's here, it's on the Bloomberg Terminal.
LEARN MORE