Six Questions for Mark Zuckerberg on Science, Giving, and Facebook's Role in Health
The Facebook co-founder spoke to Bloomberg before the Breakthrough Prize event, a science award show he helped start.
and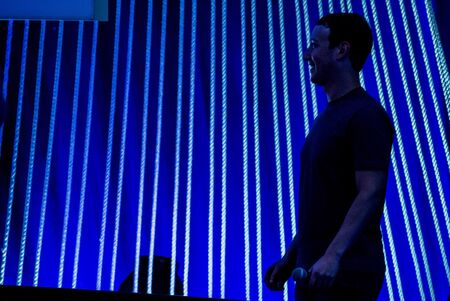 Photographer: David Paul Morris/Bloomberg
Mark Zuckerberg was video-chatting with a scientist recently and was pleased to see a familiar sculpture on display in the man's office. It was a Breakthrough Prize, a scientific award the Facebook chief executive officer helped create with Russian billionaire tech investor Yuri Milner in 2013.
The award show is like an Oscars for scientists that attracts a mix of academics, Silicon Valley luminaries, and Hollywood stars. This year's show, which takes place Sunday night, is hosted by Family Guy creator Seth MacFarlane.
In an interview with Bloomberg before the event, Zuckerberg said the awards are meant to acknowledge technical achievements in health, physics, and other scientific areas he thinks are underappreciated, and to hopefully inspire the next generation. He said scientists deserve the recognition given to celebrities, politicians, and tech CEOs, who all have their own fancy dinners and self-congratulatory events. "They may never get super wealthy themselves,'' Zuckerberg said, "but they're creating the change that really powers and pushes all of society forward over a longer period of time.''
Zuckerberg discussed his views on science, philanthropy, and other subjects in the interview. Here are six highlights:
The future of treating disease
Zuckerberg is presenting an award to Helen Hobbs, a medical professor at the University of Texas Southwestern who discovered genetic defects that can raise or lower cholesterol levels. It's a breakthrough that could advance the treatment of heart disease, which is the leading cause of death in the U.S. Zuckerberg describes her as "amazing" and said her work should help bring about an era of personalized, gene-based medicine. "The basic trend in treating disease is going from treating a population to treating individuals," Zuckerberg said. "This is exactly what people who do genomics research are trying to find."
Science awards for teens
Zuckerberg and his wife Priscilla Chan have started a new Breakthrough Junior Challenge, meant to generate excitement for science among a younger generation. "We want to incentivize and award students into getting into the fields earlier on in their lives,'' Zuckerberg said. "This is the type of thing where if you invest now, it will bear fruit in 20 years."
How becoming a dad is changing his thinking
Zuckerberg, 31, is about to have his first child. That's made him and Priscilla extra sensitive about the well-being of future generations. "It has shaped our thinking a bit in terms of wanting to make sure that we deliver, as a society, what we can for the next generation and generations after that—not just for our child but for all children," Zuckerberg said. "I just think if you believe that technology is accelerating and that things—major problems—can get solved, then I just feel like we have a moral responsibility to make those investments now."
Facebook isn't getting into health tech
Even though Zuckerberg is very interested in developments in health, don't expect to see a Facebook product centered around that. Zuckerberg wants Facebook to remain focused on communication and its broader mission of "connecting the world." He'll address his other passions outside of Facebook's business. "As you start getting into really further-out parts of the mission that aren't just connecting people, I think we'll probably do more of those through philanthropy," he said.
Giving back to the community
While Facebook's mandate is to connect the world, Zuckerberg's own personal philanthropy will begin to focus more locally. Zuckerberg's $100 million donation to schools in Newark, N.J., was widely criticized for failing to achieve its desired result. There's even a book about it. Zuckerberg said it taught him to invest in what you know and can keep an eye on. "Newark was V1 of our education work,'' he said. "And so now we're onto V2, which is an even bigger commitment in the San Francisco Bay Area. One of the biggest things that we learned is that in order to have longevity with this work, you need to have much more support in the community, and actually knowing what the community actually wants and needs."
Donating to political campaigns
Zuckerberg declined to say whether he's giving money to a presidential candidate for the 2016 election. "We don't have any comment on that," he said. "I mean, no—no real decision on that."
Before it's here, it's on the Bloomberg Terminal.
LEARN MORE