pursuits
SeaWorld to Redo Orca Show With Greener Message in San Diego
By
Flagship exhibit to showcase natural settings, behavior

Expansion of whale tanks reconsidered amid regulatory trouble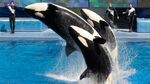 SeaWorld Entertainment Inc., the theme-park operator under fire from animal activists, will retool its killer whale show in San Diego to feature more-natural behavior and settings instead of tricks.
The company will continue to offer the current show until a new experience opens in 2017, Chief Executive Officer Joel Manby said Monday during a presentation for investors. The makeover is based on feedback from customers, Manby said. It may be less costly to operate than the current show.
"We are listening to our guests," Manby said on the call. "We're evolving as a company."
SeaWorld is responding to negative publicity about its signature attraction following the 2013 release "Blackfish," a documentary that criticizes its care of captive orcas. Last month, the California Coastal Commission approved a $100 million expansion of the company's San Diego killer whale tank, under the condition that the company stop breeding the whales there. The company said it will sue to reverse that decision.
Because of the uncertainty created by the commission's action, SeaWorld may not move forward with the expanded habitat, Manby said Monday.
Manby, who took over in April, said last week he would redirect some of the $100 million to other attractions at the park. Between one-half and one-third of that money will go to a yet-to-be-determined attraction that could open by 2018.
U.S. Representative Adam Schiff, a Democrat from California, has introduced legislation that would make it illegal to have orcas in captivity.
SeaWorld announced a number of other changes, including including plans for new hotels next to its parks, with the first under consideration in San Diego, and a new attraction in Orlando that will allow guests to participate in a simulated animal rescue on jet skis. The company also licensed the rights to Rudolph the Red-Nosed Reindeer.
A new app will let guests monitor wait times for rides and pay to get to the front of the queue.
The broader goal, Manby said, is to turn SeaWorld into a company built around wild animal rescue and consumer education about the oceans. SeaWorld parks feature more than 800 species and 600 rides and attractions, according to Manby.
"We're not limited to any one animal, any one show, any one attraction," he said. "We have a lot of options moving forward."
SeaWorld fell 0.8 percent to $18.00 at 3:49 p.m. in New York. The stock is little changed this year.
(Updates with CEO's comments beginning in second paragraph.)
Before it's here, it's on the Bloomberg Terminal.
LEARN MORE