Myanmar Ruling Party Chair Says USDP Losing More Than Winning
by and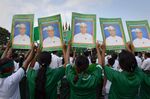 The co-chairman of Myanmar's military-backed ruling party conceded that his party was losing more seats than it was winning in the country's historic election.
"Nationwide we won in some regions, states and divisions, but we also lost in some others," Htay Oo, of the ruling Union Solidarity and Development Party, said in an interview posted online by 7 Day Daily local media. "We have a higher percentage of losses than wins."
That acknowledgement will add to the hopes of opposition leader Aung San Suu Kyi, whose National League for Democracy party appears to be making significant gains in Sunday's poll as it seeks to take control of the country away from the military. Suu Kyi urged caution Monday, noting that the results were not final.
"The results are not yet official but we will accept any outcome," Htay Oo said, though he noted the party could file some complaints in some areas to "ensure controversy-free election results."
Before it's here, it's on the Bloomberg Terminal.
LEARN MORE