Macy's Joins Singles' Day Debutantes in Chinese Spending Spree
by and
Nov. 11 event set to eclipse 2014 record of $9 billion spent

China online retail value seen to hit $1.6 trillion by 2020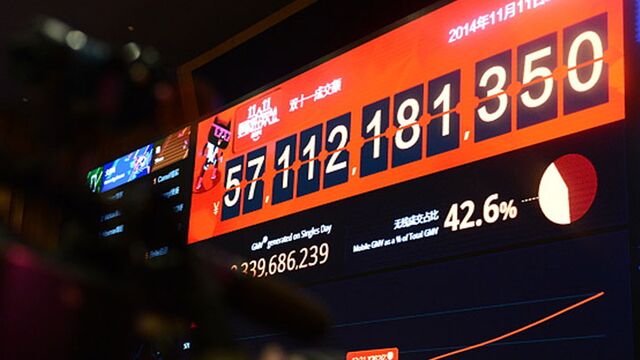 China's shoppers will have even more online bargains to choose from when J Sainsbury Plc and Macy's Inc. add to the foreign retailers bolstering Wednesday's Singles' Day offerings.
The retail chains, which have no physical presence in China, are joining Royal Ahold NV, Costco Wholesale Corp. and Askul Corp. offering promotions via Alibaba Group Holding Ltd.'s Tmall.com for the annual shopping bonanza. With additional merchandise and the growing popularity of e-commerce in China, this year's event could defy an economic slowdown to eclipse the record 57.1 billion yuan ($9 billion) spent in 24 hours last year, Barclays Plc, Bocom International Holdings Co. and BNP Paribas SA said.
"We've seen major retailers and brands in Europe as well as in North America really start to focus on this moment," said Brian Buchwald, co-founder and chief executive officer of Bomoda, a consumer research company in New York.
Started as an e-commerce event by Alibaba in 2009, Singles' Day is seen by retailers as a way of targeting younger consumers, who are becoming increasingly reliant on the Internet to buy everything from home-delivered pizzas to lingerie. For foreign retailers, Nov. 11 is an opportunity to gauge brand awareness in the absence of physical stores -- reducing their risk amid slower growth in sales of fast-moving consumer goods such as household and personal care products.
Dipping Toes
"More companies will enter China via online first to 'dip their toes in the water' and test the market," Buchwald said in an interview. "The obvious preference for digital entry over physical retail is the minimization of costs."

The value of online retail in China is forecast to hit 10 trillion yuan ($1.6 trillion) by 2020, up from 2.9 trillion yuan last year, according to a study by Bain & Co. and Alibaba released Monday. E-commerce penetration across the country reached a record high of 11 percent in 2014, the report said.
Sainsbury, the U.K.'s third-largest supermarket chain, is selling products from Fairtrade blended tea to Scottish porridge oats at 50 percent off on Tmall. Ahold, the Dutch grocery chain, is marketing a baby lotion towel and Dutch honey waffles also at half price.
Foreign retailers are typically pursuing one of two strategies, said Charles Allen, a consumer analyst with Bloomberg Intelligence in London.
"One is food safety, with products like baby food and baby milk," Allen said. "The second point is that they target more iconic products from their country of origin."
Macy's in August announced a joint venture with Hong Kong-based Fung Retailing Ltd. to open an online store on Tmall, with an aim of achieving $50 million in e-commerce sales in China next year. The Cincinnati-based company has no immediate plan to open physical stores in China, though it may do so later based on the success of its online venture, it said at the time.
'Test and Learn'
"We are just beginning to test and learn -- which is the purpose of this initial pilot," a Macy's spokesman said in an e-mail.
With a forecast for retail volume growth to average 8.7 percent in the next two years, China is expected to overtake the U.S. by 2018 to become the world's biggest retail market, PricewaterhouseCoopers LLP said in a report in February.
Singles' Day customers are expected to spend an average of 1,761 yuan each, 22 percent more than last year, according to a Nielsen survey of more than 1,000 Chinese Internet users.
Askul Group, a Japanese e-retailer, started a so-called Lohaco store on Tmall in September with 40 items. The outlet, whose name is an abbreviation for "lots of happy communities," will carry 300 items on Nov. 11, including products from Shiseido and Unicharm, an official said. Costco Wholesale Corp., which joined Singles' Day last year, plans to offer a greater selection from their Kirkland Signature brand, the Issaquah, Washington-based company said in an e-mail.
'Fascinating Evolution'
The holiday has undergone "a really fascinating evolution," said Bomoda's Buchwald. Since beginning in China, it's now morphed into an international e-commerce holiday dwarfing Cyber Monday in the U.S. Most foreign retailers have only begun to focus on the event during the past 12 to 18 months, the former NBC Universal executive said.
"Up until about a year or so ago, you could kind of just get lucky and continue to grow double-digits," Buchwald said, adding that the slower retail growth in China and Hong Kong has forced retailers to become "smarter" and "more aggressive" in promoting their brands.
Before it's here, it's on the Bloomberg Terminal.
LEARN MORE