Lonmin Falls to Record Low After Offering Shares at 94% Discount
by
Platinum producer to sell about 27 billion shares for 1 pence

HSBC, PIC, Standard Bank, JPMorgan Cazenove support sale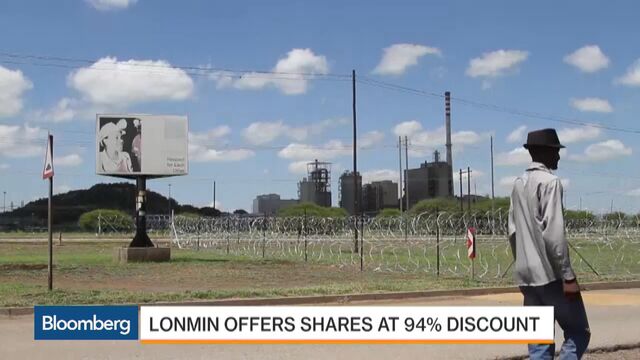 Lonmin Plc, the world's third-biggest platinum producer, tumbled to a record low as metal prices tumbled and the company said it would sell new shares at a discount of 94 percent.
The company plans to offer about 27 billion shares at 1 pence each, compared with its closing price of 16.25 pence on Nov. 6. The Public Investment Corp., which oversees South African state employees' pensions, will take up its rights to the new stock. While Lonmin rallied earlier in the day, the stock reversed direction as platinum dropped for an eighth day.
The sale comes as Lonmin battles to stay afloat given its debt load and a 51 percent slump in platinum since August 2011. The company was on the verge of being the biggest casualty of the commodity crisis and warned last week that it might shut down if shareholders didn't approve the stock sale. The platinum producer has already cut jobs, closed unprofitable operations and written down its asset value by more than half.
"If you look at the dilution, it will be massive," Sibonginkosi Nyanga, an analyst at Momentum S.P. Reid, said by phone from Johannesburg. "It's cruel for the few guys who've been holding this share for a while."
Lonmin dropped 18 percent to 13.25 pence at the close in London, bringing the company's market value to about $118 million. The stock gained as much as 14 percent earlier in the day.
Cash Flow
"In our estimate Lonmin will continue to be cash-flow negative," Edward Sterck, an analyst with BMO Capital Markets, said by phone from London. "It looks like they've got a few years of grace but realistically they probably need to do more."
According to the plan, holders will get 46 new securities for every one held, and have until Dec. 10 to decide on the offer, Lonmin said in a statement released Monday. HSBC Holdings Plc, JPMorgan Cazenove and Standard Bank Group Ltd. will support the offer, and the plan is fully underwritten, Chief Executive Officer Ben Magara said in a webcast.
Lonmin "will get its money, but shareholders who don't follow their rights will be virtually wiped out," Hurbey Geldenhuys, an analyst at Vunani Securities (Pty) Ltd. in Johannesburg, said by phone.
The proceeds will go toward "improving the group's ability to withstand potential adverse movements in external factors, specifically a continuation of the weak platinum-group metal pricing environment, and repositioning the group on the South African PGM industry cost curve," the company said.
Write Down
Lonmin wrote down the value of its assets by more than half to $1.6 billion as it took an impairment charge of $1.8 billion, the company said in a separate statement. It reported an underlying loss of $143 million for the year ended Sept. 30 from a profit of $46 million 12 months earlier, it said. Net debt was at $185 million, up from $29 million in 2014, it said.
Plans to cut jobs and shut shafts are "50 percent complete" as 3,136 workers from a total staff complement of about 38,000 exited the company, Lonmin said.
"We believe that the longer-term issues remain the same," Goldman Sachs said in an e-mailed note to clients. "Lonmin, on our estimates, will continue to struggle to generate cash, and as such we believe that investor returns will remain depressed."
Before it's here, it's on the Bloomberg Terminal.
LEARN MORE