Gundlach Says December Rate Hike a Threat to Stocks, Bonds
by
A Fed move will hurt economy and cause volatility, he says

Odds of a December Federal Funds rate increase stand at 66%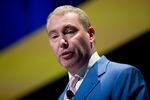 A December interest rate increase would threaten U.S. stock and bond markets while potentially driving up the value of the dollar to the point where it weakens the economy, according to Jeffrey Gundlach, chief executive officer of DoubleLine Capital.
"I have a hard time believing a Fed tightening will help the economy," Gundlach, whose Los Angeles-based company manages about $80 billion, said Monday on a conference call with investors. "I think volatility will increase and the economy will weaken."
The odds of a Federal Funds rate increase by the central bankers in December stood at 66 percent Tuesday, according to Bloomberg data, surpassing the 50 percent level last week after the Bureau of Labor Statistics said the unemployment rate fell to 5 percent in October as the U.S. added more jobs than expected. On Monday, the Standard & Poor's 500 Index lost 1 percent, an indicator investors are concerned about the impact of a potential rate increase, Gundlach said.
"For the time being," Gundlach said, the threat of higher rates "will hurt the stock market."

Before it's here, it's on the Bloomberg Terminal.
LEARN MORE