Five Things Everyone Will Be Talking About Today
The weekend is over, time to get caught up on what matters in markets
by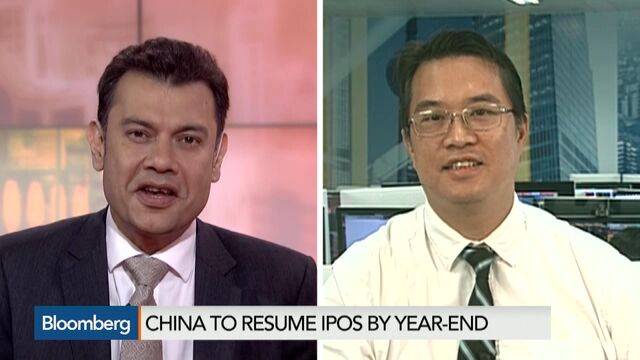 Chinese stocks continue to rise, the world gets warned on growth and banks need to raise $1.2 trillion to prevent another Lehman. Here are some of the things people in markets are talking about this morning.
Chinese stocks rise, bonds fall
The Shanghai Composite Index climbed 1.6 percent, rising to its highest level since August 20, with brokerages surging on a plan to resume IPOs that was announced late on Friday. China's bonds fell the most in two years, with yields on 10-year sovereign notes climbing 11.5 basis points to 3.25 percent. Over the weekend there were two interesting bits of Chinese data. Exports fell for the fourth straight month, indicating an ongoing slowdown. On the plus side, Chinese foreign exchange reserves rose for the first time in six months in October.
Maersk CEO warns on global growth, OECD cut forecast
Nils Smedegaard Andersen, CEO of the shipping giant Maersk, has warned that the world economy is growing at a slower pace than that predicted by the IMF and other large forecasters. Maersk, which handles 15 percent of all consumer goods transported by sea, is seen as a bellwether for global trade. This morning the OECD trimmed its global economic forecast for the second time in three months. The organization now says that global output will expand 3.3 percent in 2016. It had previously forecast a growth rate of 3.6 percent for next year. The ongoing slowdown in emerging markets was cited as a risk factor.
Goldman closes BRIC fund
The emerging market slowdown is a theme reflected in the decision by Goldman Sachs to fold its money-losing BRIC fund. The bank said in an SEC filing that it doesn't expect "significant asset growth in the foreseeable future." The fund, which had lost 88 percent of its assets since its 2010 peak, was based on an acronym coined in 2001 by former Goldman Sachs Economist Jim O'Neill.
FSB puts price on preventing another Lehman
The Financial Stability Board, created by the G20 in the aftermath of the financial crisis, said that the most systemically important lenders will need to increase capital by up to €1.1 trillion ($1.2 trillion) by 2022. Bank of England Governor Mark Carney, who heads the FSB, said as investors now "actually have skin in the game," the pressure they exert on banks will make a major failure less likely.
Fed rate rise
Speaking over the weekend, John Williams, president of the Federal Reserve Bank of San Francisco, said that the decision to keep rates unchanged in October was a "close call." Market expectations for a Fed rate rise in December are at 68 percent this morning. The dollar, which strengthened significantly following Friday's jobs number, weakened somewhat against the euro this morning as investors engage in some chicken-and-egg logic that a too rapid strengthening of the currency may stay the Fed's hand next month. 
What we've been reading
This is what's caught our eye over the weekend.
Want to receive this post, and more, into your inbox every morning? Sign up here
Before it's here, it's on the Bloomberg Terminal.
LEARN MORE