China's Purported Fiscal Stimulus Isn't Shovel-Ready Yet
On-the-ground signs that China hasn't been spending its infrastructure funds just yet.
by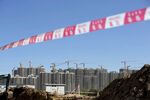 Fiscal stimulus promised to give China's economy a second-half lift as Beijing came to the rescue after the country's growth began to falter.
But there may be a problem with this strategy. Anecdotal evidence presented to Bank of America Merrill Lynch strategists suggests the funds earmarked for infrastructure spending haven't yet been deployed.
Since it has been difficult for the People's Bank of China actually to bring about easier financial conditions, with policymakers draining reserves (and in turn, liquidity) to support the yuan in the face of capital outflows, fiscal stimulus appeared to offer the most expedient channel to jump-start economic activity.
But the BofA team on the ground in China found that local governments have been unable or unwilling to break ground on new projects, despite a revamped financing scheme that has theoretically made funds more plentiful and less expensive to access.
"With private-sector capex remaining sluggish, fiscal investment has been expected to stabilize the economy," wrote strategists Tracy Tian, David Cui, and Katherine Tai. "However, investment progress has been slow, which may be caused by untimely project coordination and a lack of incentive among government officials."
Beijing wants to help stabilize economic activity in the short run, but not at the expense of exacerbating the overcapacity concerns that arose in the wake of the massive stimulus in response to the financial crisis—when revelations of ghost cities such as Kangbashi served as visible signs of years of rampant malinvestment. As such, this round of spending is intended to be much more targeted to meet more pressing urban needs, such as underground pipelines to alleviate stresses on utility systems.
But from what three trust managers in China relayed to Merrill Lynch's team, there is a distinct lack of direction from the top down and an absence of urgency on the part of local government officials:
There seems to be a lack of communication, so local governments are not clear how such investment can be conducted. Especially for underground pipelines, the local government officials I talked to seemed to be confused which office should be the project lead, since the pipeline is supposed to serve demand from telecoms, sewage, electricity and gas, which are managed by various government groups ….

Back in 2012, local government officials loved to brainstorm with me for funding alternatives, as they were eager to invest every penny they could find. In this process, they would not hesitate to take risk. In my view, that's why we have such a big LGFV [local government financing vehicle] debt problem. Nowadays, the momentum is gone; many officials seem to be reluctant to take risk in funding. For example, if the local government's funding cost cap is 10 percent, they won't bother to consider how to accommodate a fund with 11 percent cost.
Local government financing vehicles are the state-owned agents that procured and channeled funds for infrastructure projects to regional authorities, which are constrained in how they can raise funds, to facilitate China's enormous stimulus program following the U.S. housing crisis. LGFVs remain at a symbolic arms-length from the governments themselves—and importantly, off their balance sheets.
According to the trust managers, funds received by local governments have largely been used to roll over debt, and new spending may begin to accelerate over the next three to six months.
Standing out—once at the forefront of local government officials' minds as a way to move up the ranks—is no longer seen as desirable in the midst of a corruption crackdown.
The potential for the mere perception of graft during a boom period serves as a sufficient deterrent in this regard. In addition, GDP growth matters less to these officials' evaluations by party leaders than it used to.
So that second-half shot in the arm for Chinese growth some economists were counting on may arrive a little behind schedule.
But then again, who believes those official numbers anyway?
Before it's here, it's on the Bloomberg Terminal.
LEARN MORE