Airbus Still Blank at Dubai Expo as Boeing Finesses 737 Deal
by , , and
Planemakers stuck for sales after last show's order bonanza

Demand also lacking amid absence of new jetliner models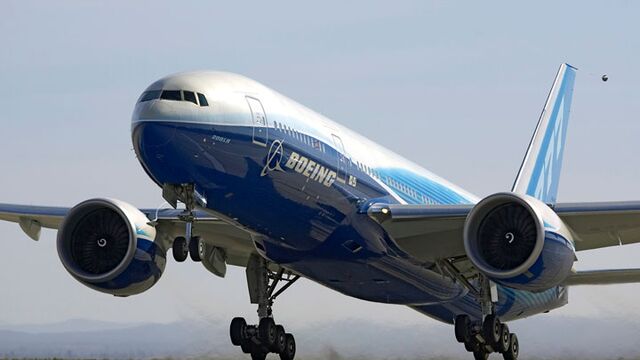 Airbus Group SE failed to announce a single new order by the end of the second day of the Dubai Air Show as its flagship A380 superjumbo struggled to find buyers and go-to Gulf customers said they've already bought enough of the company's newer planes.
While Boeing Co. appeared to break the order drought with a deal to supply 75 of its 737 single-aisle airliners to India's Jet Airways India Ltd., it emerged that the $8 billion contract had been on the U.S. manufacturer's books for the best part of two years, with the buyer undisclosed.
The dearth of deals, which saw Airbus re-announce an order from IAG SA first disclosed last week and which was leavened only by the sale of two Boeing 777 freighters to Etihad Airways PJSC, is a world away from the bonanza at the last Dubai show in 2013, when jetliner transactions totaled a record $179 billion.
"It was bound to be slim pickings," said Richard Aboulafia, an aviation analyst at the Teal Group in Fairfax, Virginia. "The carriers in the region have ordered all the aircraft they need, and perhaps then some."
Superjumbo Talks
Airbus's order blank is particularly unusual because it has traditionally made a splash on the first day of air shows, front-loading announcements to make early headlines, negotiating into the night to bring in deals, and even -- according to Boeing -- storing up contracts to maximize the end-of-expo tally.
Sales chief John Leahy said Sunday that an order for the A380 was unlikely in Dubai, while suggesting an announcement could come before the year's end as he works with two potential buyers interested in a total of 32 planes.
The Toulouse, France-based company needs a superjumbo deal by Dec. 31 to avoid a third year without a new customer for a model that it once said would dominate air travel for years to come. Saudi Arabian Airlines and Royal Air Maroc are among interested carriers.
The slow-selling A380 aside, Airbus and Boeing have in some ways become victims of their own success, with the air shows of the past decade producing a dizzying number of orders for a sequence of new or revamped planes spanning Boeing's 787 Dreamliner and Airbus's rival A350, the re-engined A320Neo and 737 Max and the U.S. company's 777X, unveiled at the last Dubai event.
'Serious Money'
Emirates, which ordered 50 more superjumbos at the previous expo as Airbus and Boeing traded blows, had seemed a potential buyer this year, but is taking its time in evaluating the merits of the A350 and the 787-10 version of the Dreamliner for regional routes, President Tim Clark said.
The Airbus model hasn't yet been in service long enough for conclusions to be drawn, he said, while acknowledging that "the bar was raised in 2013," with "serious money spent."
Leahy said it's in any case the general business trend that's important, rather than whether one air-show crop matches a previous one. "Some years are very strong, other years aren't quite as strong," he said. "As long as you have a book-to-build of positive one, things are going in the right direction."
As it stands, Airbus's order backlog spans the next decade and Boeing's eight years, effectively limiting future supply and bolstering prices.
Airbus has already won 900 orders this year, outpacing the 635 planes it expects to deliver, Leahy said. Boeing, while racking up only 498 as of Nov. 4, is confident the figure will climb in coming weeks, according to John Wojick, sales chief of the airliner division. It projects 755 deliveries this year.
Oil, Leases
Lower fuel costs could be taking the edge of demand, with some airlines electing to eke out the lifespans of less efficient aircraft, and Delta Air Lines Inc.Chief Executive Officer Richard Anderson has said wide-body models coming off lease may hurt new-plane prices.
The Jet Air order will at least be worth more to Boeing than the original accord, with the Mumbai-based carrier opting for 737 Max8 variants instead of 25 current-generation 737s alongside 50 re-engined planes. Jet is 24 percent owned by Etihad, whose CEO James Hogan, a major figure in Gulf aviation, didn't attend the Boeing ceremony and was instead in Serbia, where his company also has investments, Jet founder Naresh Goyal said.
Sales in Dubai are simply "a bit more normal this year," Wojick said, adding that he still expects Mideast orders to grow faster than the average. "We're having a strong show," he said. "But nothing like we had two years ago."
Before it's here, it's on the Bloomberg Terminal.
LEARN MORE