Dollar Rises With Debt as Miner Losses on China Mute Stock Gains
by and
Greenback touches six-month high versus euro on Fed outlook

S&P 500 rallies after slump as metals drop hits mining shares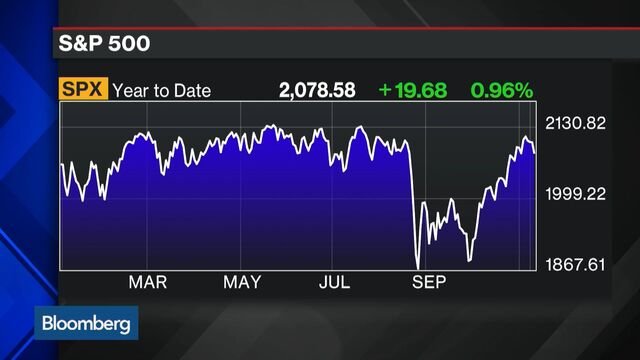 The dollar solidified its ascent, while Treasuries halted their slide as yields near a three-month high drew buyers to a government debt auction. China reasserted its hold on commodities and emerging-market assets as fresh signs of weakness in the world's second-largest economy sent mining companies tumbling with metals.
U.S. stocks ended Tuesday higher as gains in consumer stocks offset losses among materials producers including Freeport-McMoRan Inc. The dollar climbed to a six-month high against the euro, while Treasuries rose for the first time in seven days. Developing-country shares extended their losses since Friday's U.S. jobs report, which fueled speculation the Federal Reserve is preparing to raise interest rates next month. Base metals slipped as weak Chinese prices data reignited concern over the slowdown there.

Chinese consumer inflation waned in October, signaling policy makers may need to boost stimulus to ease deflationary pressures amid slackening growth. With China the world's biggest commodities consumer and Asia's largest economy, a surprise devaluation of the yuan in August spurred a rout in global financial markets and contributed to the Fed's decision to keep rates near zero in September. Renewed evidence of weakness abroad may limit the Fed's scope to tighten policy as the global economy remains fragile.
"It feels like a little bit of a breather here," said Jeff Carbone, who oversees about $1.1 billion as the founder of Cornerstone Financial Partners in Charlotte, North Carolina. "Earnings season is 95 percent through. Now it's going to be what else can we look for to keep this market moving forward?"
Stocks
The S&P 500 rose 0.2 percent to 2,081.72 by 4 p.m. in New York after a four-day slide erased 1.5 percent. The index fell within 10 points of its average price for the past 200 days Tuesday before reversing that decline. It hasn't fallen below that key technical level in two weeks. The Dow Jones Industrial Average also climbed 0.2 percent, while the Nasdaq Composite Index lost the same amount.
Apple Inc. retreated 3.2 percent to its lowest close since Oct. 27 with iPhone component orders recently down by as much as 10 percent, according to Credit Suisse Group AG. The firm attributed the drop to weak demand for the current model, the iPhone 6s.
Materials producers were the biggest decliners on the S&P 500 amid mounting evidence of the slowdown in China. Miner Freeport-McMoRan lost 6.3 percent for the second-biggest drop in the S&P 500. Anadarko Petroleum Corp. slid the most, falling 6.6 percent after it was said to have approached Apache Corp. with a takeover offer.
The MSCI All-Country World Index fell for a fifth straight day, losing 0.2 percent Tuesday to its lowest level since Oct. 21.

"We're going through a consolidation that may take a few days," said Guillermo Hernandez Sampere, who helps manage about 150 million euros ($168 million) as head of trading at MPPM EK in Eppstein, Germany. "After that, we can go into the year-end rally."
Currencies
The dollar is on a tear again and this time it has the support of a key ally: the interest-rate market. The U.S. currency rose to its strongest level since April 23 against the euro as two-year dollar interest-rate swaps exceeded those in the euro area by the most since 2007.
The euro slipped 0.2 percent to $1.0727, while the Bloomberg Dollar Spot Index, a gauge of the greenback versus 10 major peers, added 0.1 percent after surging to its highest level since Bloomberg began collating the data in late 2004 on Friday.
Currencies of developing nations rallied after a selloff on Monday, with the Brazilian real, Indonesian rupiah and Turkish lira leading gains.
Emerging Markets
The MSCI Emerging Markets Index fell for a fourth day, sliding 1.2 percent to its lowest level in five weeks. Benchmark gauges in India, Hong Kong, South Korea, Taiwan, South Africa, Egypt, Dubai and Qatar fell more than 1.2 percent.
China's consumer-price index rose 1.3 percent in October, official data on Tuesday showed, compared with the 1.5 percent median estimate in a Bloomberg survey of economists. The producer-price index fell 5.9 percent. 
Hong Kong's Hang Seng China Enterprises Index sank 1.8 percent, while the Shanghai Composite Index slipped 0.2 percent, after a four-day, 10 percent winning streak. The index has rebounded 24 percent from this year's low reached in August as the government took measures to end a $5 trillion rout and policy makers introduced stimulus to boost economic growth.
Commodities
Industrial metals extended their retreat, with zinc losing 2.3 percent in London as the weaker-than-expected Chinese prices data fueled concern that demand is slowing there. The Bloomberg Commodity Index, a measure of returns for 22 components, extended losses at its lowest level since 1999.
West Texas Intermediate crude halted an 8.4 percent, four-day slide, rising 0.8 percent to $44.21 a barrel. U.S. oil inventories probably increased by 1.28 million barrels through Nov. 6, according to a Bloomberg survey of analysts before a report from the Energy Information Administration due Thursday. That would be the seventh straight weekly gain.
Investors cut holdings in exchange-traded funds backed by platinum for a record 13th day, dropping 7.6 percent since Oct. 21 according to data compiled by Bloomberg as of Monday. Platinum was little changed at $912.55 an ounce on Tuesday, near a six-year low.
Silver fell for a ninth day, the longest losing streak since September 2008.
Bonds
Treasuries advanced as the U.S. sold $52 billion of four-week bills in its biggest regularly scheduled debt offering on record. Yields on the nation's 10-year notes fell one basis point, or 0.01 percentage point, to 2.34 percent, after climbing 20 basis points in the previous six days to the highest level in three months.
The U.S. also sold $24 billion of 10-year notes on Tuesday, in first offering of such debt since employment data on Friday boosted bets on higher central bank rates. A sale of three-year securities on Monday drew the lowest demand for such a maturity since October 2009.
U.S. corporate debt fell Monday, losing 0.11 percent, according to Bank of America Merrill Lynch Indexes, after companies sold $16.8 billion in debt, including $5 billion from energy provider Chevron Corp. and a $1 billion sale junk bond offering from HCA holdings Inc.
Before it's here, it's on the Bloomberg Terminal.
LEARN MORE