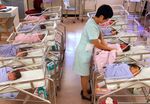 While China's decision to let couples have two kids grabbed headlines around the world, its neighbor South Korea has been doing some revolutionary thinking of its own on how to make more babies. 

With a rapidly aging population and the third-lowest fertility rate in the world, officials in Seoul have come up with 200 pages of proposals that include a suggestion for local authorities to play Cupid by arranging matchmaking gatherings for singles.





Similar policies in Japan have yet to make a dent in its population decline and the fact they are being considered at all underscore the depth of the problems in East Asia as its biggest economies mature.

Other options being floated in Korea range from giving young couples priority for public housing, state-backed campaigns to encourage marriage and more support for people seeking fertility treatment.


"The low birth rate could become a national catastrophe unless the government really acknowledges the significance of the issue," said Kang Hye Ryun, a professor of business administration at Ewha University in Seoul.

The government is taking feedback this month before the release in December of a five-year plan to raise the birth rate and combat aging. Meanwhile, in China on Tuesday, the State Council Information Office will hold a briefing on implementing its new two-child policy.

South Korea's fertility rate was 1.2 in 2013, the third-lowest in the world after Hong Kong and Macao, according to the World Bank. That's despite the government spending 81.2 trillion won ($70 billion) since 2006 to address the problem, ruling party lawmaker Shim Jae Chul said last month.

Unless there is improvement in the birth rate, annual growth in Asia's fourth-largest economy will begin to fall and by the 2050s it may be as low as 1 percent, according to the Korea Institute for Health and Social Affairs.

The government wants to raise the average number of babies a woman has to 1.5 by 2020 and to 2.1 by 2045.

"Raising the birth rate is especially hard in Korea because of a corporate culture that's unfavorable to a work-life balance,'' said Lee Jong Wha, a Seoul-based professor of economics at Korea University and former chief economist at the Asian Development Bank. "China has just abandoned its one-child rule and it has room for more policy changes in the future.''
Before it's here, it's on the Bloomberg Terminal.
LEARN MORE