Modi Suffers Setback With Big Loss in India State Election
by
Defeat emboldens opponents who have blocked reforms like GST

Stocks, currency expected to drop when markets open Monday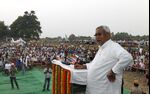 Indian Prime Minister Narendra Modi suffered one of his biggest setbacks since taking office with a defeat in a crucial state election, dealing a blow to his push for economic reforms. 
His opponents led by incumbent Bihar Chief Minister Nitish Kumar won 73 percent of seats in the state's 243-member assembly, with the Modi-led National Democratic Alliance taking 24 percent.
Modi said on Twitter that he called Kumar and congratulated him on his victory.
The outcome will embolden opponents who have sought to block key economic reforms like a national sales tax while portraying Modi's government as intolerant of religious minorities. That's bad news for India's stocks and currency, which are expected by some analysts to fall when markets open on Monday. One-month rupee forwards slid 0.7 percent, headed for the biggest drop since Aug. 24.
It also hurts Modi's longer term goal of taking power in the opposition-controlled upper house of parliament, where members are chosen by state legislatures. His Bharatiya Janata Party-led alliance needs to perform well in about 10 state elections through 2017 to have a shot at controlling the upper house and ending gridlock that has stifled reforms.
'Striking Repudiation'
"The NDA defeat in Bihar represents a striking repudiation of the ruling alliance," said Milan Vaishnav, associate in the South Asia Program at the Carnegie Endowment for International Peace. "The Modi magic worked well in recent state elections where anti-incumbency sentiment was sky-high. This was not the case in Bihar, where Nitish Kumar had a governance track record most voters rated positively."
Under Kumar, Bihar's economic expansion has averaged more than 10 percent a year, exceeding the national rate. Kumar's supporters credit his Janata Dal (United) party with restoring law and order to Bihar and providing residents with roads, electricity and food.
"The spirit & power of democracy has won," Kumar said on Twitter.
The defeat comes as concerns grow over India's finances. The government on Saturday announced it would raise excise duties on fuel as Modi pushes to narrow the budget shortfall to an eight-year low without cutting growth-enhancing expenditure on roads, ports and railways.
Rupee Worries
The rupee could fall more than 3 percent to 68 per dollar by year's end as the election loss adds to worries about a possible U.S. Federal Reserve rate increase, higher oil prices, weak corporate earnings and the government's ability to meet its fiscal goals, according to Sanjiv Bhasin, executive vice president at India Infoline Ltd. He had predicted the CNX Nifty Index would fall to 7,500 by Nov. 20. The index closed at 7,954.30 on Friday.
"The Bihar elections can push back the reforms process as the government will now prioritize social spending over fiscal management," Bhasin said by phone from New Delhi. "The GST will get delayed, the land bill will get postponed and other reforms will take a back seat," he said, referring to the goods-and-services tax that has been blocked in parliament.
The results could damp investor sentiment as it may be seen as an additional stumbling block to the government's reform efforts, Barclays Plc economists Siddhartha Sanyal and Rahul Bajoria wrote in a note to clients Sunday. Along with the poll verdict, U.S. jobs data, which came after India closed on Friday, could drag the markets lower, they said.
Finance Minister Arun Jaitley said last week that India would press forward with reforms in the national parliament no matter what happens in Bihar. These include a bankruptcy law, changes to foreign direct investment rules and a faster dispute resolution mechanism for public contracts.
Personal Setback
The loss is a personal setback for Modi, who swept to power last year with the biggest Indian mandate in three decades. He had invested himself heavily in the campaign, addressing about 30 rallies over the past four months in Bihar, one of India's least developed states where about 100 million people live.
The verdict is a repudiation of the BJP's strategy to win votes by making Hindus and Muslims fight, Congress Party leader Rahul Gandhi said after the results. The Congress-led alliance was voted out last year after a decade in power.
"The message is clear and Bihar has declared: Mr. Modi, stop the communal agenda and get back to work," Gandhi told reporters in New Delhi.
Modi and BJP Party President Amit Shah may also start to see internal challenges to their leadership, according to Nikita Sud, an associate professor of development studies at the University of Oxford.
"This PM is not used to losing elections," Sud said. "Murmurs of dissent at the hold of the PM on the party might become more audible now."
Before it's here, it's on the Bloomberg Terminal.
LEARN MORE