Jet Buyers Are Taking a Breather in Dubai
by
Air show opens with two Boeing 777 freighter orders for Etihad

After planemakers' 2013 haul, airlines need time to digest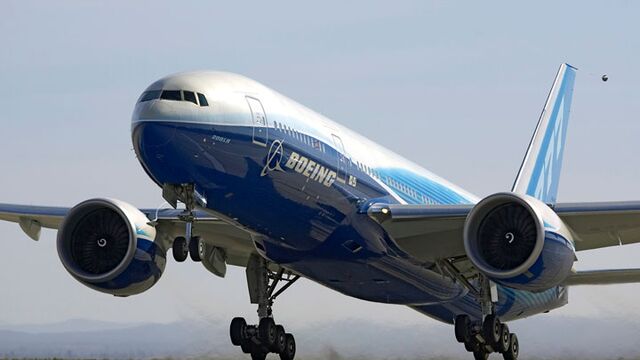 Day one of the biennial Dubai Air Show came and went without a single passenger aircraft order. Where have all the buyers gone?
The industry expo that generated $179 billion in combined transactions in 2013 for Airbus Group SE and Boeing Co. got off to a slow start Sunday. While one or both companies may still land contracts this week, airlines and planemakers are signaling that they expect few deals -- a reflection of an industry taking a pause to digest a record haul of new planes.
"The bar was raised in 2013," said Tim Clark, president of Emirates, which snapped up 50 Airbus A380 superjumbos two years ago. "There was serious money spent."
Sunday's sole purchase was from Etihad Airways PSJC, for two Boeing 777 freighters. Even that wasn't much of a surprise: The Abu Dhabi-based carrier was exercising options. This year's show also lacks a new, buzz-building offering like Boeing's upgraded 777X in 2013.
Company Backlogs
Both airlines and manufacturers say that after the huge deals of the last Dubai expo and at other shows, it's simply not possible for planemakers to continue piling up orders. As it stands, Boeing's backlog of planes goes out eight years into the future, while Airbus's stretches out for a decade.
Some airlines have also raised the specter of an oversupply of planes. Delta Air Lines Inc. Chief Executive Officer Richard Anderson last month said there was a surge of wide-body models coming off lease, creating investor concern that planemakers might face pressure on pricing for new aircraft.
Airbus's sales chief, John Leahy, said the general trend of business is what needs to be watched, rather than whether one air-show crop matches a previous one.
"The important thing is that orders cycle as they do, some years are very strong others years aren't quite as strong: as long as you have a book to build of positive one, things are going in the right direction," he said.
Airbus itself has already won 900 orders this year, he said, outpacing the 635 planes it expects to deliver.
At Boeing, orders as of Nov. 4 were only 498, though John Wojick, sales chief of the airliner division, said he was confident the planemaker will bring the figure up in coming weeks. The company projects 755 deliveries this year.
Before it's here, it's on the Bloomberg Terminal.
LEARN MORE