James Bond Is Back Atop the Box Office With 'Spectre' Movie
Anousha Sakoui and Zachary Tracer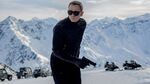 "Spectre," the latest film in the James Bond spy series, debuted with $70.4 million to lead the U.S. and Canadian box office, though shy of some analysts' estimates.
"The Peanuts Movie," from 20th Century Fox, came in second, drawing $44.2 million over the weekend, Rentrak Corp. said Monday in a statement.
The performance of the fourth Bond movie from Sony Corp. is being closely watched as the producers of the 53-year-old franchise, one of Hollywood's most valuable, search for a potential new distributor. The deal between Sony and the rights holders, Metro-Goldwyn-Mayer Pictures and the heirs of producer Albert Broccoli, expires after this picture.
"Expectations were just a little too high," said Phil Contrino, chief analyst at BoxOffice.com.
BoxOffice.com estimated the new Bond film would generate ticket sales of $85 million through the weekend, after lowering an earlier estimate of $90 million. "Skyfall" earned $88.4 million on its opening weekend, a record for the franchise.
In "Spectre," Daniel Craig, playing agent 007 for the fourth time, embarks on a rogue mission to Mexico City and eventually Rome, and uncovers the existence of the sinister organization known as SPECTRE. Christoph Waltz and Monica Bellucci also star. Sam Mendes, who directed 2012's "Skyfall," returned.
"Spectre" wasn't as big a hit as "Skyfall" both at the box office and with critics, scoring 62 percent positive reviews, according to aggregator Rottentomatoes.com, versus 93 percent for "Skyfall."
No Surprises
"There's nothing surprising in 'Spectre,' the 24th 'official' title in the series, which is presumably as planned," Manohla Dargis wrote in the New York Times. "Much as the perfect is the enemy of good, originality is often the enemy of the global box office."
"Spectre" cost $245 million to make, a person familiar with the terms said this month, making it more expensive than its predecessor.
The new film could generate $1 billion in global ticket sales, Steven Azarbad, co-founder of Maglan Capital LP, a shareholder in MGM Studios, said in a telephone interview. With DVD and other home-video sales MGM could rake in $500 million, he estimates.
"The Peanuts Movie" made it tougher for "Spectre" to run away with the weekend. The Fox revamp of the beloved Charles Schulz comic series received 86 percent positive reviews, according to Rottentomatoes.com.
Gang Returns
Boxoffice.com analysts forecast it would collect $49 million on its debut. The new movie reunites Charlie Brown, Snoopy, Lucy, Linus and the gang. Charlie Brown falls for a new student at school, while Snoopy has a romance with Fifi (Kristin Chenoweth) and takes to the skies to pursue his arch-nemesis, the Red Baron.
"The Martian," returning for its sixth weekend, fell to third, adding $9.1 million to its box office tally. It now has $196.8 million in domestic sales, according to Rentrak.
Weekend sales for the top 10 films rose 4.3 percent to $148.8 million from a year earlier, Rentrak said. Sales for the year to date have increased 5 percent to $9.14 billion.
The following table has U.S. box-office figures provided by studios to Rentrak. The amounts are based on actual ticket sales for Nov. 6 to Nov. 8.
                     Rev.    Pct.             Avg./   Total
 Movie              (mln)    Chg. Theaters  Theater   (mln)  Wks
================================================================
1 Spectre           $70.4     --    3,929  $17,919    $70.4    1
 2 Peanuts Movie     44.2     --    3,897   11,345     44.2    1
 3 Martian, The       9.1    -23    2,855    3,178    196.8    6
 4 Goosebumps         6.8    -31    3,051    2,230     66.3    4
 5 Bridge Of Spies    5.8    -30    2,767    2,109     54.7    4
 6 Hotel Transylvania 3.6    -38    2,274    1,585    161.3    7
 7 Burnt              2.9    -42    3,003      961     10.1    2
 8 Last Witch Hunter  2.6    -50    2,286    1,137     23.5    3
 9 Intern, The        1.7    -28    1,071    1,623     71.3    7
10 Paranormal         1.6    -52    1,087    1,505     16.3    3



Top 10 Films Grosses



   This Week     Year Ago      Pct.
     (mln)         (mln)       Chg.
===================================
    $148.8        $142.6      +4.3



Year-to-date Revenue



     2015          2014
      YTD           YTD        Pct.
     (mln)         (mln)       Chg.
===================================
    $9,139        $8,704      +5.0
Source: Rentrak Corp.
Before it's here, it's on the Bloomberg Terminal.
LEARN MORE