Security Crackdown Looms as Bomb Blamed for Sinai Jet Crash
by and
U.K.'s Hammond says more likely than not bomb behind crash

Emirates airline says crash may be industry `game changer'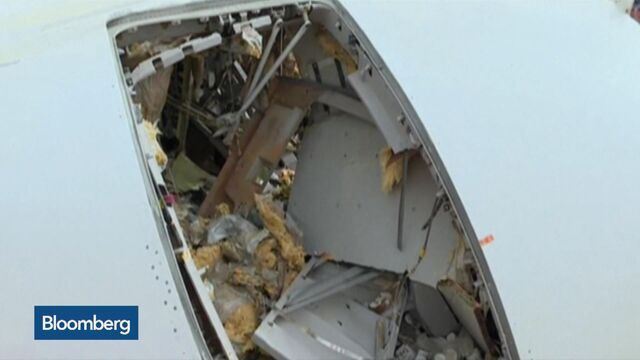 As tourists abandon the Egyptian resort of Sharm el-Sheikh, government and aviation officials warned that global airport security will need to be reviewed if suspicions are confirmed that a bomb brought down a Russian jetliner over Sinai.
While officials don't have enough evidence yet to conclude the incident was the result of a blast, U.K. Foreign Secretary Philip Hammond said the view of the British authorities was that the disaster was "more likely than not caused by an explosive device." French Prime Minister Manuel Valls said the possibility of a terror attack "is being taken very seriously."
Investigators are trying to tease as much as possible from the Metrojet Airbus A321's two black boxes, recovered from the Sinai peninsula, where the plane's pieces fell to the ground Oct. 31. All 224 people aboard died in the crash. A last-second noise heard on a cockpit recording has become the focus of an Egypt-led probe.
"If this turns out to be a device planted by an ISIL operative or by somebody inspired by ISIL, then clearly we will have to look again at the level of security we expect to see in airports in areas where ISIL is active," Hammond told BBC Television's Andrew Marr show on Sunday, using another acronym for the Islamic State group.
People purporting to represent Islamic State claimed the downing of the jet was retaliation for Russia's bombing the extremist group in Syria. The Associated Press reported Sunday that the airport at Sharm el-Sheikh had security problems, including lax searches and a frequently malfunctioning baggage scanning device.
Tighter Rules
Emirates airline, ranked world No. 1 by international traffic, is already looking at its security procedures in anticipation of tighter rules, President Tim Clark told reporters in Dubai on Sunday.
"As we speak, we're reviewing our procedures in terms of security and ramp handling and access to our aircraft," Clark said. "We have 22 cities in Africa, multiple cities in west Asia -- India, Pakistan, et cetera -- all of these will have to be reviewed to make sure we're as safe as we can be."
Britain banned commercial flights to and from Sharm el-Sheikh on the Red Sea in the wake of the crash, leaving thousands of vacationers stranded. Other countries, including Russia, followed and travel warnings ensued with Norway, Finland and Denmark all advising against all non-essential trips. Hammond said those trying to get home on unscheduled flights face delays of two to three days at most.
Egypt's benchmark EGX 30 Index of stocks slumped 2.6 percent at the close in Cairo, the most in two months.
Extra Costs
"What we have got to do is ensure that airport security everywhere is at the level of the best and that airport security reflects the local conditions, and where there is a higher local threat level that will mean higher levels of security are required," Hammond said. "That may mean additional costs, it may mean additional delays at airports."
Hammond said the position on whether to ask Parliament to approve British attacks on Islamic State targets in Syria had not changed. The government will only propose such a motion when there is cross-party support, he said.
Islamic State's decade-old Egyptian branch, a Sinai-based group known originally as Ansar Beit al-Maqdis, stepped up its campaign against the government after the military-led ouster of Islamist President Mohammed Mursi in 2013. The following year, it changed its name to Sinai Province and pledged allegiance to the rapidly expanding Islamic State, acquiring more powerful weaponry and ramping up the boldness of its attacks with an assault on an Egyptian frigate this past July.
A senior Israeli official said Sunday that Sinai Province would see its prestige and arms pipeline grow if it turns out it planted a bomb on the Russian plane. The official, who spoke on condition of anonymity because he wasn't authorized to speak on the record, predicted Egypt would crack down harshly on the group if it embarrassed President Abdel-Fattah El-Sisi with an attack.
Russian Inspectors
The first of three teams of inspectors Russia has sent to audit safety and prepare recommendations in key Egypt's airports has arrived, Russian Deputy Prime Minister Arkady Dvorkovich said on state TV.
Clark said he expects U.S. and European aviation authorities will eventually make some "fairly stringent" demands of the industry as a result of the crash.
"These are game-changers to our industry," Clark said. "There are many airports in the world where if people wanted to do some pretty bad things they could do them."
Before it's here, it's on the Bloomberg Terminal.
LEARN MORE