Emirates Delays A350 Order Until Airbus Can Prove Jet's Worth
by and
Gulf carrier seeking to compare new model with Boeing 787

Clark scrapped earlier deal citing performance issues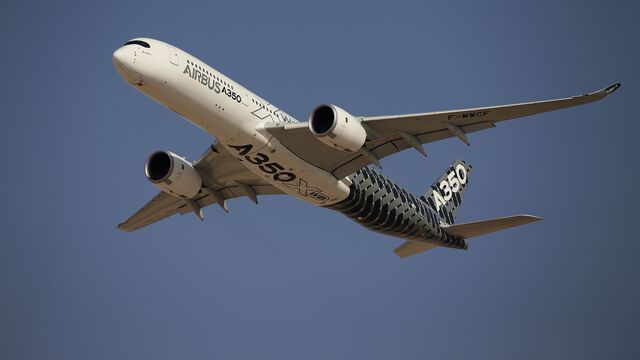 Emirates, the world's biggest long-haul airline, said more A350 jets need to enter service before it can run a contest between the Airbus Group SE model and Boeing Co.'s competing 787 Dreamliner.
Data bearing out the A350's in-service performance is especially vital since Emirates scrapped an order for 70 of the planes in 2014 after concluding that they wouldn't meet the specifications originally promised, President Tim Clark said in a briefing Sunday at the Dubai Air Show.
Clark plans to weigh the A350-900 and A350-1000 against the biggest 787-10 Dreamliner to see which best meets route requirements that vary in range and capacity. Emirates is looking to add 50 to 70 jets for regional services, and would contemplate splitting the order between Boeing and Airbus, he said.
"People haven't got a true measure of what this thing will do," Clark said. "The ramp-up rate needs to be pushed a bit, it's taking them forever to get this thing up."
Build Rates

Airbus has so far delivered 11 A350-900s to Qatar Airway Ltd., Vietnam Airlines Corp. and Finnair Oyj since the first was shipped at the end of 2014, and plans to have handed over 15 this calendar year. By contrast, Boeing's 787-8 and 787-9 are coming off the production line at a rate of 13 or 14 a month, according to Clark. The A350-1000 won't enter service until 2017 and the 787-10 isn't scheduled until 2018.
An order for the 787-10 would come as a boost for Boeing, with the newest Dreamliner model attracting only three fresh orders since 2013, giving a backlog of 146 jets that's about 13 percent of the overall tally for the three versions so far.
Emirates Chairman Ahmed Bin Saeed Al Maktoum said at a separate briefing that the carrier is contemplating sourcing funds through bonds or Islamic sukuk next year, and that the airline tends to raise between $500 and $1 billion per issue -- though it could also use its own cash to finance jet purchases.
The carrier plans to make an announcement concerning engines Monday on the second day of the Dubai show, he said.
Before it's here, it's on the Bloomberg Terminal.
LEARN MORE