Cameron Warns EU Not to Ignore British Renegotiation Demands
Andrew Atkinson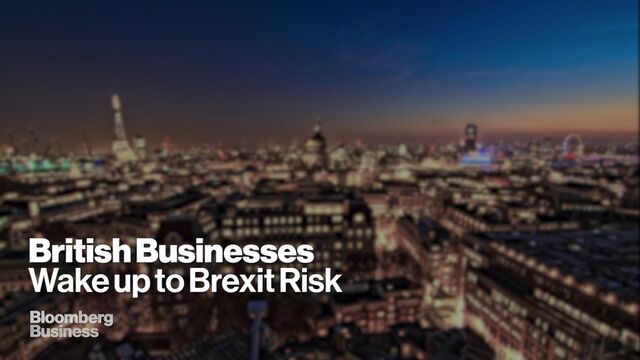 Prime Minister David Cameron will deliver his strongest warning yet that he could campaign for Britain to leave the European Union unless his demands for better membership terms are met.
"If we can't reach such an agreement, and if Britain's concerns were to be met with a deaf ear, which I do not believe will happen, then we will have to think again about whether this European Union is right for us," Cameron will say in a speech on Tuesday, according to extracts released by his office in London. "As I have said before, I rule nothing out."
The speech will accompany a letter to EU President Donald Tusk setting out the "broad outlines" of the concessions Britain wants to secure before the stay-or-leave referendum Cameron has pledged to hold by the end of 2017. He has insisted the best outcome would be Britain staying in a reformed EU.
With the referendum campaign under way, investors are being warned to wake up to the threat of the U.K. leaving the 28-nation bloc. German Chancellor Angela Merkel and European Commission President Jean-Claude Juncker are among leaders to have said they want to help Britain stay in the EU, and that will require acceding to as many demands as they can stomach.
A large chunk of the British electorate is still undecided about the referendum. Just under a third would definitely vote to stay, compared with under a quarter who would definitely leave, while the rest are still to make up their minds, according to Anthony Wells of polling company YouGov Plc.
British Demands
Cameron's letter to Tusk marks the beginning of the formal stage of negotiations. Cameron and Chancellor of the Exchequer George Osborne have already set out several changes that they want from the EU: acknowledgments that Britain isn't part of an "ever closer union" and that the euro isn't the bloc's sole currency; structural changes to protect non-euro countries from being outvoted and to strengthen national parliaments; and the completion of the single market in services.
In his speech, Cameron will attack pro-Europeans who want to stay in the EU at all costs, saying there are "real problems" with maintaining the status quo.
"There are some economic risks if we allow a situation where eurozone countries could potentially spend our money, or where European regulations hold back our ability to trade and create jobs," the prime minister will say. "And there are also significant risks if we allow our sovereignty to be eroded by ever closer union, or sit by and do nothing about the unsustainable rate of migration into our country."
'Excessively Prescriptive'
Foreign Secretary Philip Hammond said the letter to Tusk won't include "detailed legislative changes," speaking on BBC Television Sunday.
"We don't want to be excessively prescriptive at the beginning of the discussion," he said during the Andrew Marr show. "This letter is not the end of the process, it is the beginning of the process."
He warned, however, that "substantive, irreversible, legally binding change" will be needed for voters to back it.
"The British people will not be fobbed off with a set of cosmetic alterations to the way the EU works," he said. "If we were not in the EU we would have to find a different way of promoting our economy. It is not impossible but it would be challenging."
Vote Leave, a group campaigning for Britain to quit the EU, said the reforms Cameron is demanding do not go far enough.
"We expect Cameron to get what he's asking for but what he's asking for is trivial," Campaign Director Dominic Cummings said in an e-mailed statement. "The public wants the end of the supremacy of EU law and to take back control of our economy, our borders, and our democracy."
Before it's here, it's on the Bloomberg Terminal.
LEARN MORE