BHP Boss to Arrive in Brazil as Iron Venture Halted on Probe
by , , and
Samarco may be closed until 2019, Deutsche Bank reports

Mining giants face potential claims from families of victims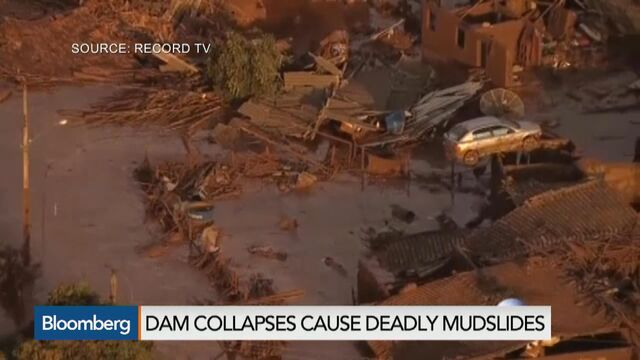 BHP Billiton Ltd.'s chief executive is scheduled to arrive in Brazil after authorities there suspended operating permits at an iron-ore venture and as prosecutors push for compensation for victims after two tailings dams burst causing deadly mudslides. 
The Melbourne-based mining giant, whose shares fell to the lowest since 2008, and partner Vale SA face payouts to families who lost their homes after dams ruptured at the Samarco Mineracao SA joint venture in Minas Gerais state on Nov. 5. Three people are confirmed dead as the search for 25 others extended into a fifth day. Deutsche Bank AG said cleanup costs could exceed $1 billion.
BHP CEO Andrew Mackenzie "will go to Brazil this week to understand first-hand the human, environmental and operational impacts of the incident," the company said in a statement. "Meanwhile, BHP Billiton has offered its full support to help the immediate rescue efforts and to assist with the investigation."
The Minas Gerais Environment Secretariat on Monday formally suspended operations in the Mariana region until an investigation is complete and remedial measures are taken. Samarco had already halted mining and will stop shipments once stockpiles run out after an incident that Prosecutor Carlos Eduardo Pinto described as the state's worst-ever environmental disaster. It could be years before the site reopens, Deutsche Bank said.
"If they were to restart, they would have to rebuild a tailings dam and I think that to do that the permitting would take more than a year," Deutsche Bank analyst Paul Young said Monday by phone. "The building would also take more than a year."
BHP will review its previous guidance of iron-ore production of 247 million tons for the year to July 2016, it said. Samarco may be seen as a stand-alone company with its own insurance, which may shield BHP and Vale from deep losses related to the dam collapse, says Bloomberg Intelligence analyst Kenneth Hoffman. Vale expects a total output loss of 12 million tons this year and in 2016 from its nearby Fabrica Nova/Timbopeba mines, the company said in a press release dated Nov. 9.
Bonds Plunge
The site's Fundao dam failed in Thursday's incident, while the Santarem dam downstream was also affected, BHP said in its statement. The Germano dam is being monitored.
Samarco said 601 people were placed in hotels in the area as the army, police and firefighters engaged in relief efforts. Twelve employees and 13 residents were still unaccounted for, according to the fire department. There's little chance of finding the missing alive, Globo reported Minas Gerais Governor Fernando Pimentel as saying.
BHP fell 0.7 percent in Sydney on Tuesday to A$21.27, the lowest since November 2008. Vale dropped 1.2 percent in Sao Paulo on Monday. Samarco's $1.7 billion of overseas notes have lost more than a third of their value since the accident.
While state prosecutors said the missing personnel were working on raising the height of one of the dams at the time of the collapse, Samarco and BHP said it's too early to say what caused the accident. "There is no confirmation of the causes of the tailings release," BHP said in Monday's statement.
Response Team
The joint venture said its top priority is helping to locate and care for victims. Vale and BHP expressed solidarity with those affected and are offering support and assistance to local authorities. BHP CEO Andrew Mackenzie will meet with Samarco's response team, authorities and members of affected communities once he arrives in Brazil.
"Samarco may be held liable for civil, criminal and administrative penalties, depending on its direct responsibility for the disaster," Danilo Miranda, a lawyer at Marcelo Tostes Advogados, said by telephone on Friday. "Fines could go as high as 50 million reais ($13 million), depending on how many infractions they committed."
It's likely the accident will add further pressure to BHP's cash flow, growth and the company's progressive dividend policy, Deutsche Bank's Young said. BHP's full-year profit in the year to June 30 plunged 52 percent as commodity prices tumbled on concern over slower growth in China, the largest consumer. Samarco accounted for about 3 percent of underlying earnings before interest and taxes in fiscal 2015, BHP said Monday.
Iron Rout
The operation, which was producing at an annual rate of about 30 million metric tons in September, uses water-filled pipelines to transport ore from its mines to processing plants near its port.
It provides pellets, used in steel output, to about 20 countries, and accounts for about 20 percent of that market, Citigroup Inc. analyst Ivan Szpakowski said Monday in an e-mailed report.
The benchmark iron-ore price, little changed on Monday, is down 32 percent this year as an increase in supply coincides with slowing Chinese demand. Curbs to production at Samarco are bullish for pellet and lump premiums, according to Szpakowski.
"The northern hemisphere winter is already typically the strongest time of the year for such premiums, particularly as Chinese pellet output falls, and the Samarco disruption is likely to exacerbate the impact," he said.
Before it's here, it's on the Bloomberg Terminal.
LEARN MORE