With Long Handshake, China and Taiwan Affirm Better Ties
by , , and
China, Taiwan ties at their best since civil war, Ma says

Xi says Taiwanese independence biggest threat to peace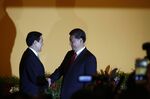 It was the 80 seconds China and Taiwan had waited almost 70 years for.
Chinese President Xi Jinping and his Taiwanese counterpart, Ma Ying-jeou, smiled in dark suits --Xi wearing a Communist red tie, Ma, a Nationalist blue one -- as they shook hands for more than a minute before hundreds of reporters in Singapore. The first face-to-face encounter since 1945 between leaders of China's civil war foes provided a new high-water mark in efforts to resolve one of the last century's biggest unsettled conflicts.
The handshake and the 50-minute closed door meeting that followed cap a seven-year effort by Ma to strengthen economic ties across the 180-kilometer (110 mile) Taiwan Strait before he leaves office next year. It may bring Xi one step closer to realizing China's dream of reunification. While investment, tourism and trade have flourished between the two sides under Ma, they remain politically distant, one democratic, the other ruled by the Communist Party. Saturday's handshake is the closest they've come to bridging that divide.
Creating Precedent
"It's a major breakthrough because the real impact of this meeting is that it creates a precedent," said Hoo Tiang Boon, an assistant professor at the S. Rajaratnam School of International Studies in Singapore. "The real substantial thing is that they met and had a handshake. It's the first time. And when you have a first time you always have a possibility of a second time."
A resolution to the dispute would remake the regional security landscape, given Taiwan's strategic position along some of the world's busiest shipping lanes and the U.S.'s legal obligation to defend the island. But the impact of Saturday's meeting was largely seen as symbolic, while it raised hackles among Ma's political opposition in Taiwan as the surprise meeting was called about two months before general elections.
Lame Duck
Ma is a lame duck and the nominee of his Kuomintang, or Nationalist Party, is trailing far behind opposition leader Tsai Ing-wen, whose Democratic Progressive Party officially supports independence from China. At a press conference in Taipei, as protesters demonstrated outside the parliament, Tsai criticized Ma for failing to emphasize to Xi the importance of democracy or assert the existence of the Republic of China, Taiwan's formal name.
"Instead the only result was to create on the international stage a political framework limiting the choices of the Taiwan people," Tsai said.
After Ma and Xi's grip-and-grin at the Shangri-La hotel Saturday, the two men convened a brief public meeting carefully choreographed to avoid conferring legitimacy on either side. Xi and Ma sat directly across from each other at a long table flanked by officials from their respective governments. 
No national flags were present, nor titles on their name tags. They addressed each other as "mister," rather than "president."
Before retiring behind closed doors, each leader addressed the significance of the occasion in brief remarks. Both reaffirmed the idea that they belonged to the same country, the so-called one-China policy that has served as the foundation for their cross-strait dialogues since 1992.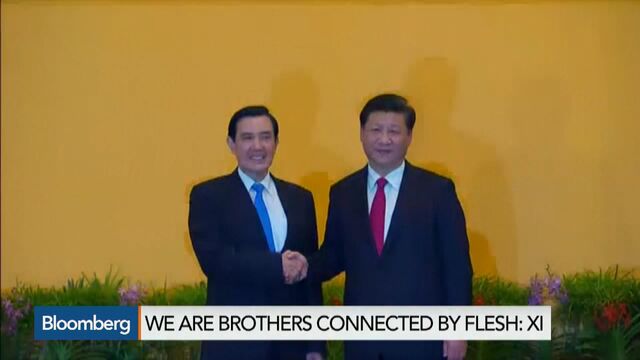 Bones 'Broken'
Xi, who spoke first, delivered a high-toned speech rich with metaphor and cast the China-Taiwan dispute as a family feud.
"We are brothers connected by flesh even if our bones are broken, we are a family whose blood is thicker than water," Xi said. "History has left some bad memories but the strait cannot prevent relatives and friends from missing each other," he said. "Chinese people on the two sides of the strait have the ability and wisdom to solve their own problems."
In a subsequent private session, Xi agreed with Ma on the benefits of establishing cross-strait hotlines between government agencies and said that China understood Taiwan's desire to have a bigger international presence, Zhang Zhijun, head of China's Taiwan Affairs Office, told reporters afterwards. China has managed to block the island's participation in many international forums, including the United Nations. Zhang said Xi reiterated that Taiwan would be welcome to take part in the China-led Asian Infrastructure Investment Bank that was established this year.
Tea with Lee
Singapore Prime Minister Lee Hsien Loong did receive Ma after for tea Saturday and congratulated him on the "breakthrough" in cross-strait relations, according to a post on his official Facebook page. Ma responded in his own post to thank him for the "warm welcome" and the hot tea and pastries. Ma was not invited with other world leaders to the official state funeral of Lee's father in March, though he did travel to Singapore to attend a private ceremony with the Lee family.
Afterward their meeting, Xi and Ma had a meal that featured dishes meant to highlight their shared mainland roots like spicy Sichuan noodles, Hunan-style fried lobster and Hangzhou-style braised pork belly. They split the bill.
'Pragmatic, Straight-Forward'
Ma, for his own part, said he found Xi to be "pragmatic and very straight-forward." He stressed the need to continue such dialogues and denied any attempt to build his own legacy at the expense of Taiwan's autonomy.
"This is not for my political legacy, this is for the future of Taiwan," Ma said. "Given the state of relations, the fact that we haven't met is weird. We should make it frequent and not something unusual."
The meeting comes amid the campaign for Taiwan's presidential election on Jan. 16 and threatens to shake up the race to choose Ma's successor. Public opinion polls show most Taiwanese favor the current state of relations with China and are opposed to reunification. Ma's policy of courting China contributed to the slide in support for the KMT, which is at risk of losing both the presidency and control of the legislature.
'Accept Reality'
Tsai for her part hasn't openly advocated for independence. Doing so would be a "minefield" for the DPP, China's official Global Times newspaper said in an editorial after the meeting.
"Taiwan society should accept reality, being aware that nobody in Taiwan can change it, and no international forces, including the U.S., can help change reality," the paper wrote. "The various political forces in Taiwan fighting for elections should stay away from the issue of independence, and instead explore other aspects for their own good. Only by doing so can democracy and politics operate smoothly while the cross-Straits ties remain stable."
The piece ended with the following missive. "Pragmatism has a power that outruns any political idealism. Taiwan is no exception."
Before it's here, it's on the Bloomberg Terminal.
LEARN MORE