Myanmar Voters Head to Polls in Freest Election in 25 Years
Kyaw Thu and Philip Heijmans
First nationwide election contested by Suu Kyi since 1990

Unclear if opposition will win enough seats to take power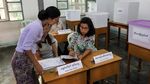 Nobel laureate Aung San Suu Kyi joined more than 30 million Myanmar citizens voting Sunday in the nation's most important election in 25 years. What comes next may test the military's willingness to share power with the democracy campaigner who missed the past two national polls because she was under house arrest.
Suu Kyi, who is barred by the constitution from becoming president, was greeted by hundreds of cheering supporters when she arrived to vote before 9 a.m. at a school in Yangon, the country's biggest city. Dressed in red, the color of her National League for Democracy party, she emerged minutes later with a finger dyed by purple ink, before being ushered through a crush of reporters without making any comments.

"Everybody I know is voting today," said San Lwin Aung, a 21-year-old Muslim in Mingalar Taung Nyunt, Yangon's most populous Muslim neighborhood. "Tonight, we will stay at home and watch the results on TV. It is all very encouraging. We want to see complete change."
President Thein Sein said before the vote that the military and the government will accept the outcome and work with opposition parties to ensure a stable transition. The poll comes 25 years after the junta ignored a landslide victory by Suu Kyi's NLD, eight years after it violently crushed pro-democracy protests, and five years after it handed power to its political arm in an election tainted by allegations of fraud.
About 100 voters queued in front of the gate of a school near Suu Kyi's home in Yangon an hour before the polls opened, a scene that was repeated at almost 50,000 polling stations across the nation. Polls closed at 4 p.m. Initial results aren't expected for several days and a complete count may take weeks, according to the election commission.
"The voting has been largely successful thus far, with exuberant crowds early in the morning going into midday," Phil Robertson, deputy director of Human Rights Watch's Asia division, said by phone from Yangon. "So far, there is nothing that would lead us to have serious concerns."
Stability or Change
Though more than 90 parties are competing to represent the Southeast Asian nation's 52 million people in parliament, the vote boils down to two key choices: Suu Kyi's party and its mantra of change, or Thein Sein's military-backed party and its promise of stability. Should neither win a majority, ethnic parties which are expected to do well in border areas might determine who leads the next government.
Since taking power in 2011, Thein Sein's quasi-civilian government opened industries such as energy exploration, banking and telecommunications to foreign participation in a bid to bring Myanmar out of more than 50 years of economic isolation. Annual economic growth has averaged more than 7 percent since the 2010 election, helped by foreign investment in infrastructure and low-cost manufacturing.
The NLD is banking on Suu Kyi's personal popularity to sweep the party to power, though even if it wins she's barred from the presidency because her children hold foreign passports. No matter who wins, the military will maintain a key role in politics because it is guaranteed 25 percent of seats in parliament as well as control of key ministries.
'Above the President'
Suu Kyi has repeatedly said she plans to lead the government should her party win, a stance that risks antagonizing the military. "I will be above the president," she said Nov. 5 at her home in Yangon, where she spent a total of 15 years under house arrest, ending in November 2010. "The constitution says nothing about someone being above the president."
Suu Kyi, 70, has already raised concerns about the fairness of the vote, alleging that the election commission has failed to investigate complaints about campaign violations and possible irregularities in advance voting. The NLD is also investigating claims of vote buying in Pathein district, west of Yangon, it said in a statement Sunday.
The election commission has acknowledged that errors on the voter registration lists are widespread, and will only guarantee that the lists are 30 percent accurate. Combined with an earlier purging of many Muslims from the voter rolls, that means millions of people could potentially be disenfranchised.
Human Rights Watch, which sent election observers to several states, is investigating allegations that anti-NLD hate-speech pamphlets were distributed in the central city of Mandalay, though polling stations were "fairly professionally run," Robertson said.
Before it's here, it's on the Bloomberg Terminal.
LEARN MORE