Standard Chartered's Shares Plunge 7% After Fitch Downgrade
by and
Rating firm cuts credit grade one notch to A+ from AA-

Fitch cites poor `profitability and asset quality trends'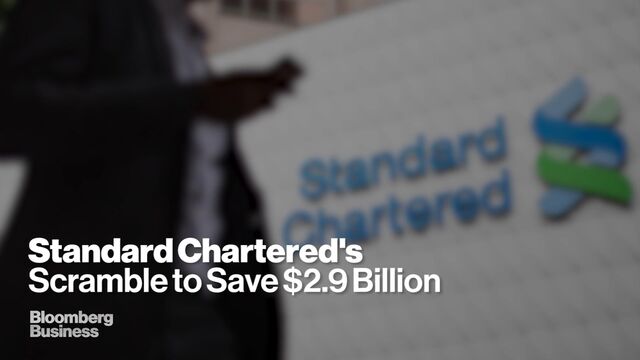 Standard Chartered Plc shares slumped in Hong Kong after Fitch Ratings downgraded the bank, citing the outlook for the lender's profits and asset quality.
The London-based bank this week unveiled plans to tap investors for $5.1 billion, eliminate thousands of jobs and cut risky assets across Asia.
The bank's shares fell as much as 7.1 percent Friday in Hong Kong. They were down 4.8 percent as of 11:30 a.m. local time, extending this year's decline to 35 percent. The benchmark Hang Seng Index slipped 0.9 percent.
Standard Chartered is now lagging behind the Bloomberg World Banks Index by the most since the gauge started in 2003.
While Chief Executive Officer Bill Winters's measures to restructure the lender and boost capital address some of Fitch's concerns about the bank, implementing the plan could be challenging because of credit risks and high management and staff turnover, the ratings firm said in a statement. Fitch on Thursday cut the lender's credit rating one grade to A+ from AA-, with a negative outlook.
Job Cuts
Winters, who took over in June, on Tuesday unveiled 15,000 job losses to help save $2.9 billion by 2018, with the bank scrapping the second-half dividend. Standard Chartered will also restructure or exit $100 billion of assets and reduce its riskiest lending in Asia after loan impairments surged. The bank reported an unexpected third-quarter loss of $139 million, compared with a profit of $1.5 billion a year earlier.
The bank's impaired-loan ratios remain above its peers' and appear to have become more volatile as a result of concentrated sector and country exposures, Fitch said. "Standard Chartered remains vulnerable to volatility from a difficult operating and regulatory environment."
The bank's shares fell 6.3 percent in London on Thursday.
Standard Chartered's "ratings may be downgraded if the bank fails to strengthen earnings and reduce risks or if loan quality deterioration accelerated undermining its capital strength," Fitch said. "Outsized fines or material business restrictions from litigation could also lead to a downgrade."
Before it's here, it's on the Bloomberg Terminal.
LEARN MORE