RBA Says Rate Cuts and Currency Weakness Supporting Growth
Michael Heath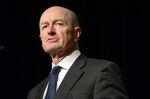 Australia's central bank said interest-rate cuts this year and the currency's depreciation are supporting growth, indicating interest rates are likely to remain on hold.
The inflation forecast was lowered for the year through June 2016, as expected, and growth trimmed by a quarter point at the start and end of the forecast period, in the Reserve Bank of Australia's quarterly monetary policy statement released Friday.
The RBA reiterated its outlook from three days ago, when rates were kept unchanged for a sixth month at 2 percent, saying prospects for improved economic conditions had "firmed a little" in recent months. It also repeated that the inflation outlook "may afford scope" for an easing in policy if needed.
Today's statement was upbeat about Australia's jobs market, saying employment growth is expected "to remain relatively strong" and the participation rate will increase a little further. Unemployment is projected to remain within its recent range of 6 percent to 6.25 percent over the next year and decline gradually toward the end of the forecast period, the central bank said.
The RBA said signs that easy policy and a lower currency are supporting growth are "evident in a range of indicators, including employment growth, job vacancies, surveys of business conditions and trade data." It noted that the economy appeared to pick up in the third quarter as resource exports and dwelling investment rebounded from a weak second quarter.
Optimistic Tone
"The RBA struck an optimistic tone: earlier rate cuts, alongside a depreciating currency are helping get the economy back on track," said Katrina Ell, an economist at Moody's Analytics in Sydney. "But there is still a lot of room for improvement, with patchy growth in the non-mining economy. The health of China's economy also remains of paramount concern."
The Australian dollar was slightly lower after the statement's release and was trading at 71.42 U.S. cents at 12:16 p.m. in Sydney.
The central bank is taking a glass half full approach to Australia's economy. It cites better business surveys and a steady unemployment rate, even as the unwinding of a mining investment boom detracts from growth, to justify its confidence. The glass half empty view of those economists who expect further rate cuts, in contrast, points to slow growth, recession-level wage gains, weak investment and slowing population increases.
Rate-Cut Bets
Governor Glenn Stevens acknowledged in a speech Thursday that any near-term move in interest rates was likely to be a cut not a raise. Traders are pricing in a 25 percent chance of a rate reduction at the December meeting, climbing to an almost 60 percent in February. The RBA's board doesn't convene in January.
The central bank today forecast a pickup in consumer demand, fueled by low rates and employment growth and predicted the households would dip into their savings to fund increased spending amid continued slow wages growth.
Still, it said indications of investment intentions in non-mining industries "provide little, if any, evidence of a material pickup in the near term." The RBA again held out hope for the future, noting some pre-conditions for a stronger recovery in investment are in place: business borrowing costs are low, business conditions are above average, and the currency has "depreciated significantly" in the past couple of years.
China Uncertainty
The Australian dollar declined more than 30 percent in the past three years to trade at just over 70 U.S. cents in response to a drop in the price of key commodities. Anxiety has been intensifying about China, Australia's biggest trading partner, following a stock market slump and a surprise yuan devaluation in August that roiled global markets.
The central bank said today "a key source of uncertainty" is the outlook for growth and trade in Asia, particularly China, with implications for iron ore, coal and the terms of trade.
It said weakness in Chinese residential and non-residential construction was part of the reason for a deterioration in conditions in the Chinese industrial sector since late 2014.
"This has been particularly acute in the north-eastern provinces and in the mining and manufacturing industries," the RBA said today. "Persistent weakness in these parts of the economy could increase the vulnerability of financial institutions with concentrated exposures."
Potential Growth
In Australia, the economy is forecast to expand by 2 percent to 3 percent in the year through June 2016, accelerating to 2.75 percent to 3.75 percent in the year through June 2017. In the 12 months through December 2017 it's seen expanding by 3 percent to 4 percent.
Stevens acknowledged Thursday that Australia's assumed rate of potential growth had been "lowered a little bit" to reflect a weaker rate of population growth. He didn't put a figure on the new number, but the 30-year average annual growth rate is
3.3 percent and the economy's expansion has come in below that level for six of the past seven years.
Before it's here, it's on the Bloomberg Terminal.
LEARN MORE