technology
Poverty Surveyors in Sri Lanka Get Some Help From Satellites Orbiting the Earth
The World Bank is teaming with a Silicon Valley startup to test whether poverty can be measured using satellite images.
By
In mountainous areas of Pakistan or far-flung villages in Sri Lanka, finding reliable economic information is extremely difficult. The World Bank's solution has been to send surveyors to study the conditions on the ground, which is an expensive, time-consuming, and imprecise task. The resulting dearth of data leaves governments, aid groups, and researchers unsure of where to put resources that can be critical to helping the world's most impoverished areas.
The World Bank is now turning to the sky for help. The Washington-based organization, an international financial institution and economic researcher, is studying pictures pulled from satellites orbiting the earth to help identify areas of extreme poverty. Under a new pilot program, it will use software developed by Silicon Valley startup Orbital Insight to scour the images for clues. If reliable, the data could influence decisions about where the World Bank allocates its more than $100 billion worth of loans each year.
Sri Lanka is the first test case. Orbital Insight pulled up to five years of images of the country taken by satellite cameras. The Palo Alto startup trained its software to pinpoint signs of economic development by counting cars, studying the height and shapes of buildings, and measuring agricultural activity around villages.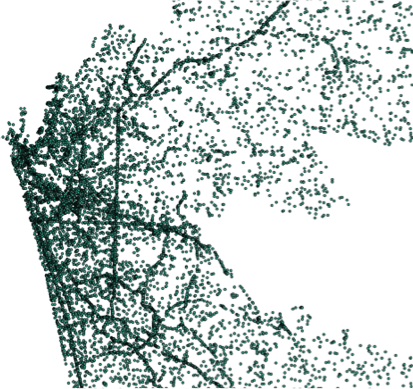 "If you see more cars, or more cars over time, that could be an indicator of relative wealth in one village vs. another that hasn't seen growth in cars over time," said Jeff Stein, vice president for business development at Orbital Insight. "It effectively gives you a dynamic census of where there are people and what's the relative income level."
The World Bank was initially skeptical of using satellite data for economic studies, and it still plans to tread cautiously. Aerial surveys would be used to augment, not replace, census data, as well as to identify areas that are developing slowly or verify whether aid programs are working.
"We see satellite imagery more as a complement than a substitute for face-to-face household survey data," David Newhouse, a senior economist in the World Bank's poverty and equity global practice, wrote in an e-mail. "Each source of data has different strengths and weaknesses, but the strengths of household survey data, particularly in its ability to collect information on a variety of indicators including detailed measures of consumption and income, is unparalleled."

The World Bank is checking the findings from Orbital Insight with census data from Sri Lanka's government and on-the-ground surveys. It originally considered Pakistan for the experiment, but the country doesn't have enough data on hand to use as a reference point. A final report could be issued by the World Bank next May or June, said Newhouse, who recently spent time in Sri Lanka as part of the research. "It's an exercise to look at all these different potential indicators from satellite images to see which ones are most related to our household survey and census-based estimates of poverty," he said in an interview. "But it's still preliminary and experimental."
Tapping into satellites in orbit may actually cost less than sending a person to remote villages. Satellites can be built more cheaply than ever and then hitch a ride into space on one of Elon Musk's SpaceX rockets. Thousands of government- and corporate-owned satellites are currently in orbit, and several organizations are using their photographs to learn things about the earth and society.
Descartes Labs, an Orbital Insight competitor in New Mexico, has been using satellite pictures to study crop yields. The World Resources Institute is attempting to predict deforestation. Hedge funds and Wall Street money managers use Orbital Insight's image analysis of parking lots outside a Walmart, for example, to help predict the direction of the company's stock. Pictures of oil reserves in Texas are used to help bet on the price of crude. Orbital Insight has received funding from Bloomberg Beta, a venture-capital unit of Bloomberg LP.
The World Bank project is potentially significant because it could help the financial institution determine where to allocate its resources. Poverty is a global problem, but aid money is limited, said Orbital Insight's Stein. "There is a lot larger need than dollars available, so you need to focus," he said. "If this works in Sri Lanka, there's no reason it wouldn't work all over the rest of the world."
—With Bloomberg News
(Updates with disclosure saying Bloomberg Beta is an Orbital Insight backer in the ninth paragraph.)
Before it's here, it's on the Bloomberg Terminal.
LEARN MORE