Obama Keystone Rejection Stings Oil Producers Less After Crash
by
Denial of the pipeline comes as industry cuts spending

Canada conventional oil output seen 15 percent lower by 2017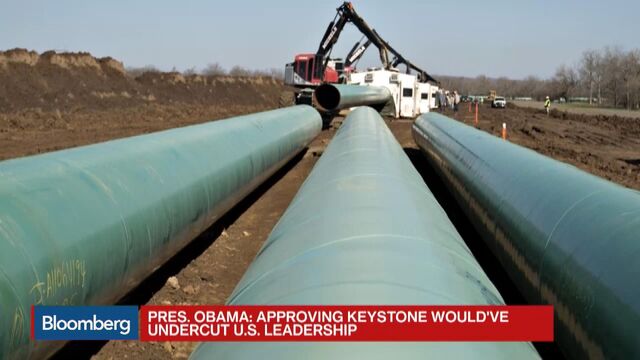 President Barack Obama's rejection of the Keystone XL pipeline solidifies what the market has been saying for months -- there's less appetite for expensive Canadian oil sands in an era of $45 crude.
The $8 billion pipeline to transport crude from Alberta to the Gulf of Mexico first proposed by TransCanada Corp. in 2008 has lost its urgency as the industry endures the worst price crash since the 1980s. Producers are shelving projects and reducing drilling, and after waiting so many years for the line's approval, they can afford to wait longer for a new one. They've also found other ways to ship the oil.
"The industry has moved on," said Martin Pelletier, managing director and portfolio manager at TriVest Wealth Counsel Ltd. in Calgary. "If oil was at $100 and there was no place to go, things would be different."
The rejection follows years of lobbying by Canadian energy producers and politicians for a project initially seen as critical to widening markets for oil-sands crude. But Canada won't need more transportation capacity to export crude until 2018 or 2019, when oil-sands expansion projects come online and shortages are expected to return, according to FirstEnergy Capital Corp. Keystone XL is one of four major oil-sands pipeline proposals that have been held up by environmental opposition and have become less vital.
Energy Security

Keystone XL's supporters have argued it would help Canada develop its energy resources, create thousands of jobs on both sides of the border and increase U.S. energy security.
Its rejection is a victory for environmental advocates who blame the expansion of Canada's oil sands for worsening global warming. They had hoped that blocking Keystone would stall development of the world's third-largest proven reserves.
U.S. crude prices hovering near $45 a barrel are already achieving that.
A wave of budget cuts to weather the price rout means that producers are poised to spend about 30 percent less this year expanding oil-sands output, according to the Canadian Association of Petroleum Producers. The industry group reduced its outlook for Canadian oil production in 2030 by 17 percent in June.

The nation's conventional output, which is more sensitive to near-term prices, is poised to fall 15 percent to 1.1 million barrels a day by 2017 as drilling slows, the Canadian Energy Research Institute said in an August forecast. 
Keystone XL would have spanned 1,179 miles (1,897 kilometers) from Alberta through three states -- Montana, North Dakota, and Nebraska -- before connecting to an existing pipeline network feeding crude to U.S. Gulf Coast refineries. The line would have carried as much as 830,000 barrels of oil a day, including some from North Dakota's Bakken shale.
TransCanada said it will review all of its options in light of the permit denial. Those options include filing a new application to receive a presidential permit for a cross-border crude oil pipeline from Canada to the U.S. as the industry still supports the project, Chief Executive Officer Russ Girling said in a statement following the rejection.
Keystone XL is among C$34 billion ($26 billion) of large-scale oil and natural gas pipelines the Calgary-based company has been seeking to build. Challenges advancing the projects are weighing on TransCanada's stock, which is trading at a discount to peers including Enbridge Inc., according to National Bank Financial.
TransCanada extended declines after the rejection was first reported. The shares fell 4.4 percent to C$43.25 at 12:19 p.m. in Toronto. It fell as much as 5.2 percent, the biggest decline in more than five weeks. The stock has dropped 24 percent this year, compared with a 18 percent decline in the Standard & Poor's/TSX Energy Index of 59 stocks.
Obama's Successor
Analysts have suggested the energy industry would have better luck re-applying for a permit to build Keystone XL with Obama's successor after the 2016 presidential election, particularly if a Republican wins, because of the party's support of the line.
Without Keystone XL, Canadian oil producers have backed other projects such as Kinder Morgan Inc.'s plan to almost triple the capacity of its existing Trans Mountain line to the Pacific. TransCanada's Energy East line will transport as much as 1.1 million barrels a day from Alberta to the Atlantic, if approved and built.
Producers need at least one of the pipelines to get built, and there are additional opportunities to expand existing systems, Lorraine Mitchelmore, president of Royal Dutch Shell Plc's Canadian division, said at the company's refinery in Edmonton Friday. The lack of new transportation for Canadian crude was part of the company's decision to defer its Carmon Creek oil-sands project last week.
Industry's Need
"Right now we would like to have one of them," Mitchelmore said. "We need a sequence of them over time."
Enbridge can now move more than 800,000 barrels a day of Canadian crude to the U.S. after expanding its existing cross-border Line 67 system.
Exports of Canadian oil by rail averaged about 161,000 barrels a day last year as producers used trains to get volumes to the Gulf Coast, according to data from Canada's National Energy Board.
Keystone XL may not be dead after Obama's rejection. A rebound in oil prices could breathe life into the project, John Kim, a Toronto-based fund manager at Aston Hill Financial, which manages about C$3 billion, including TransCanada shares.
"If oil prices go up there will be more pressure for something to happen again," Kim said. "At the end of the day it doesn't really matter what Obama does."
Before it's here, it's on the Bloomberg Terminal.
LEARN MORE