Jos. A. Bank Sales Plunge, Sending Men's Wearhouse Into Tailspin
by and
Chain's same-store sales expected to tumble 25% this quarter

Company cites the reduction of buy-one, get-three discounts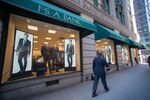 Jos. A. Bank's effort to scale back its famous discounts isn't going well.
Same-store sales at the menswear chain plunged almost 15 percent last quarter, a far worse decline than the company expected, and they're forecast to tumble as much as 25 percent in the fourth quarter. The plummeting sales forced the retailer's owner, Men's Wearhouse Inc., to slash its profit forecast for the rest of the year. The company said Thursday that it now expects earnings of $1.75 to $2 a share, down from an earlier projection of as much as $2.90.

Men's Wearhouse fell 43 percent to $22.70 at the close of trading in New York, the biggest decline since the company entered the public market in April 1992. The drop erased more than $840 million from its market value.
The Houston-based company acquired Jos. A. Bank last year for about $1.5 billion, aiming to find synergies between the two retailers. But Jos. A. Bank is known for its buy-one, get-three-free discounts -- something Men's Wearhouse is phasing out. Customers are reacting more strongly to the strategy change than the company expected, Chief Executive Officer Doug Ewert said in a statement on Thursday.
Unexpected Impact
"We did not anticipate that the impact from the traffic decline would occur to this degree," he said. "Despite these results, we continue to believe that transitioning away from the unsustainable promotional strategy we inherited from Jos. A. Bank and accelerating our new promotional strategy is the right thing to do for the long-term success of the Jos. A. Bank business."
Men's Wearhouse shares were already down 9.2 percent this year before the latest tumble, reflecting concerns about the integration. Analysts also cut their ratings on the stock after the forecast was delivered. Goldman Sachs, Mizuho Securities and Jefferies all reduced their recommendations to the equivalent of a neutral rating.
In addition to changing its promotional strategy, Ewert is looking to update Jos. A. Bank's merchandise to add more tailored fits and accessories, such as shoes. The chain also is rolling out a new ad campaign and has worked to retrain staffers to sell products under a new promotional strategy.
"Maybe it's just a lot tougher than they think to get the customer engaged," said Betty Chen, a San Francisco-based analyst at Mizuho. "They're trying to change things around. Maybe that customer isn't ready for it."
Investors may have to wait six or nine months to see whether shoppers accept the new changes and traffic rebounds, Chen said.
"A male customer is even less receptive to change, which usually is a good thing because it makes them loyal," she said. "In this case, maybe they're not ready."
Before it's here, it's on the Bloomberg Terminal.
LEARN MORE