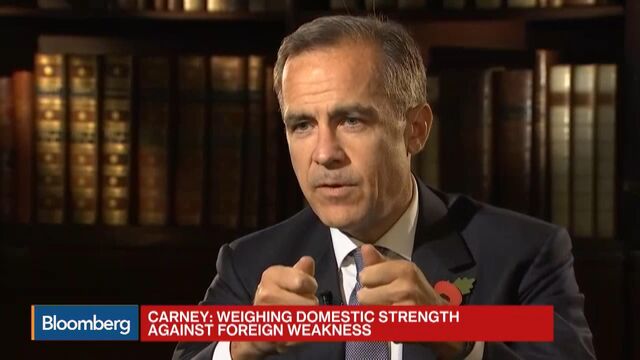 At the Bank of England, there's inflation, and then there's inflation.
Rate setters presented a curious picture on Thursday. On the one hand, officials cut their inflation forecast, and suggested they may need a bit more time to get the rate back up to the 2 percent target. That would suggest the economy needs a bit more help, but weirdly, they didn't discuss adding stimulus and focused all of their discussion on whether rates should rise.
For Governor Mark Carney, core inflation tells you what you need to know, and he said in a Bloomberg Television interview that it's something he's watching. 
"My personal view is it is important that we look at it. Particularly because of this imported disinflation, it shows up through core inflation."
The key is for the Bank of England to avoid getting behind the curve because one-off factors that are keeping a lid on price pressures can drop out pretty quickly.
"What we want to avoid is to have cost pressures build up too much domestically to the extent that once these foreign factors ultimately pass through the economy, we're overshooting that inflation target because of domestic strength."
While the headline rate of consumer prices is negative, the core measure, which excludes energy, alcohol, food and tobacco, is 1 percent.

Carney's view marks a change from that of his predecessor. Mervyn King had no truck with the narrower view of price pressures. He told lawmakers in 2008 that the problem with focusing on that rate is that it doesn't accurately reflect the changing prices confronting consumers.
"It is not necessarily a good predictor of where headline inflation will be two years from now. Other prices and wages may change in response to particular movements in energy and food prices. Just stripping those out to get a core inflation measure is not necessarily a good guide to what underlying inflation is."
But King's was a different world. During his tenure, headline inflation was well above core. 

 So as the Bank of England takes baby steps toward its first rate increase for more than eight years, Carney will be watching core to see if a giant leap becomes necessary.
Before it's here, it's on the Bloomberg Terminal.
LEARN MORE