Lawyers Wage Campaign to End Lawyer Jokes
Have you heard the one about Love Your Lawyer Day?
by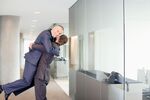 Why did they stop putting lawyers on stamps? Nader Anise, the legal marketing expert who told me this joke, was at a mixer for lawyers more than a decade ago when he first heard the punch line: Because people didn't know which side of the stamp they should spit on.
"I have a sense of humor, but I didn't find that funny," Anise said. He was so troubled by the message that, 15 years ago, he decided to name the first Friday in November "Love Your Lawyer Day." This Friday's celebration is going to be huge, he said. "I can see it, I can feel it, without a doubt this will be the biggest year."
Anise is optimistic because, for the first time this year, Love Your Lawyer Day will be officially recognized by the American Bar Association. 
"If we don't draw the line, and we don't highlight the positive aspects of lawyers in our community, than who will?" said Tom Bolt, the ABA Law Practice Division chairman. 
Fair enough. In October, the ABA passed a resolution in support of the holiday, which it describes as "a day for the public to celebrate lawyers and express their gratitude to them." Anise suggests sending a gift to your lawyer, or tweeting a positive affirmation and adding the hashtag #LoveYourLawyerDay.
Given that lawyer-hating has become something of an art form, the event may not be taken in the spirit Anise intended it. "I know people might misuse the day, but [maybe] I can plant the seed that 'Hey, listen, the lawyer jokes aren't always a great idea, cut it out,' " said Anise. He notes that for attorneys married to other attorneys, "this trumps Valentine's Day." 
There are many reasons litigators might need love. Partner earnings at firms of all sizes have decreased 9 percent since 2008, and in the last eight years the legal profession lost more than 50,000 jobs. Standalone attorneys have been struggling for years: Since 1988, their income has dropped 31 percent, to $49,000 per year, according to tax returns. 
"Lawyers have consistently been the target of verbal bashing [and] derogatory portrayals, and literature is rife with lawyer-bashing dated back hundreds of years," according to the ABA's resolution. Bolt acknowledges that a day of happiness might not be enough to reverse the tide of displeasure that has historically flowed in lawyers' direction. It's worth a try, he said.
"If we can change public perception even just slightly, incrementally, and we can continue to push that rock a little further up the hill, then we will have succeeded."
Before it's here, it's on the Bloomberg Terminal.
LEARN MORE