Japan Post Frenzy Shows Signs of Abating After $36 Billion Surge
by and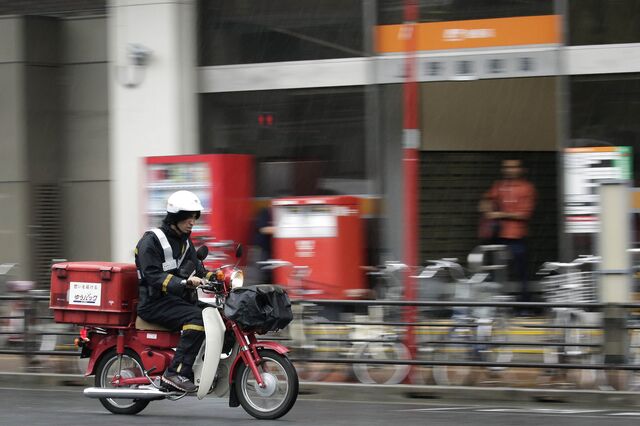 After two days as a listed entity, Japan Post Group was worth $36 billion more than the price tag the government put on it. Shinzo Abe will soon find out if the financial sacrifice was worth it.
Shares of Japan Post Insurance Co. surged 77 percent through Thursday, while Japan Post Bank Co. jumped 22 percent and the parent company climbed 30 percent. All three slid on Friday. If the government had priced the roughly 11 percent stakes it offloaded in the IPO at Thursday's closing levels, an extra $4 billion would have gone into its coffers to fund the rebuilding of areas devastated by the 2011 earthquake and tsunami.
Of course, Prime Minister Abe used the low-ball price to woo the public, who were offered some 80 percent of the shares. The strategy was that a successful IPO would encourage people to shift household savings into investments, helping pull the nation out of an economic funk. With shares surging so much and analysts gloomy on the group's profit outlook, the risk is the rally could unravel just as quickly as it began, damaging the appeal of stocks just as the premier wants individuals to embrace them.
"We had a spike after the IPO as demand surged, but if you look at things rationally, who is going to be buying at these high prices?" said Mitsushige Akino, executive officer at Ichiyoshi Asset Management Co. in Tokyo. "Sentiment will likely shift as the stocks start pulling back. If they drop a lot, that could weigh on the whole market."
Trading Frenzy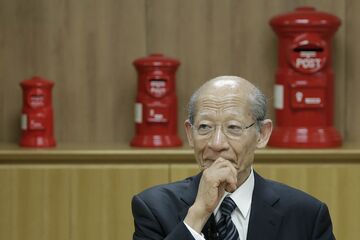 About 538 billion yen ($4.4 billion) in shares of the three companies changed hands on Thursday, by far the most-traded securities on the Tokyo exchange. Japan's government raised 1.44 trillion yen from the IPO, the world's largest since Alibaba Group Holding Ltd. in September 2014 and the nation's biggest state asset sale since 1987.
The offering was oversubscribed within days of going on sale last month. As well as high dividend yields, the companies' implicit government backing attracted individuals who would otherwise avoid equities, according to WisdomTree Japan KK's Jesper Koll. Japan's famously risk-averse households had just 11 percent of their record 1,717 trillion yen of assets in shares at the end of June, central bank data show. About half was in cash or bank deposits.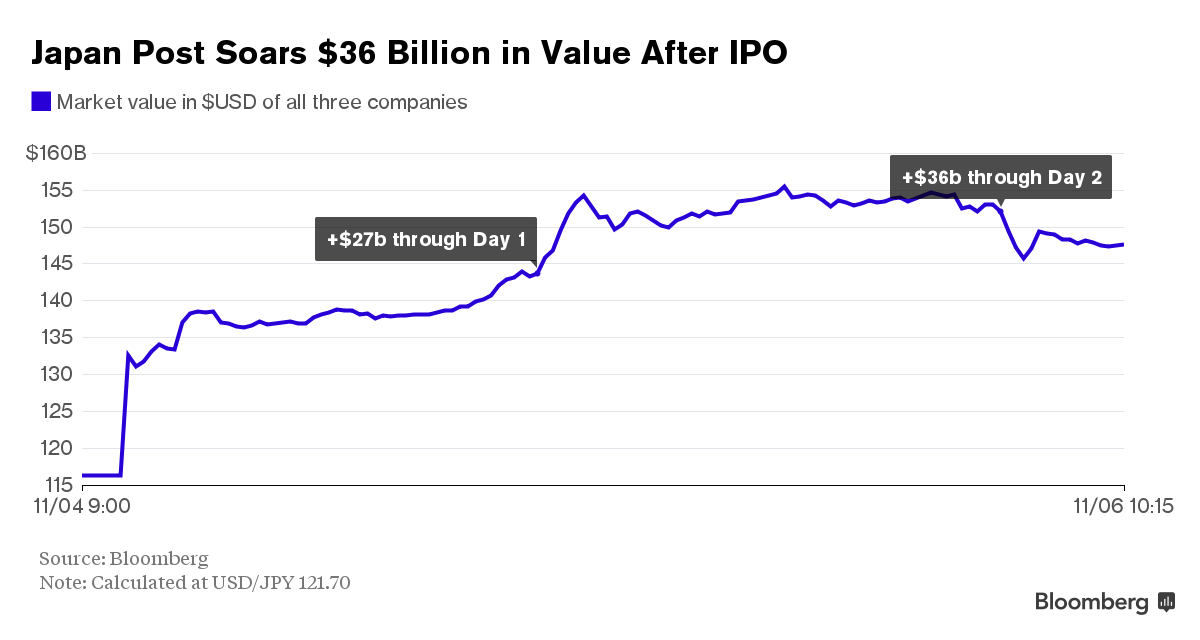 Japan Post Bank, the nation's biggest holder of deposits, was valued at 0.58 times book value on Thursday, compared with the 0.74 average at the nation's three so-called megabanks. Japan Post Insurance closed at 1.18 times book value, compared with Dai-ichi Life Insurance Co.'s 0.76 times and MS&AD Insurance Group Holding Inc.'s 0.71 times.
Quite Strange
"It's quite strange that Japan Post Insurance is trading above Dai-ichi or MS&AD valuations," said Tatsushi Maeno, head of Japanese equities at Pinebridge Investments Japan Co. in Tokyo. "When we look back on this with impartial eyes, it'll be obvious it was quite overbought."
Ordinary profit at Japan Post Insurance will fall 13 percent this fiscal year, according to the average analyst estimate from six reports published in August, before brokerages started selling the IPO to clients. Japan Post Holdings Co. and the bank also expect profit declines.
Temple University's Jeff Kingston says the government has achieved its primary goal of spurring demand for equities with the Japan Post IPO, and that it will seek to protect fledgling investors from steep declines.
People Excited
"They raised a big chunk of cash and got people excited and I think they're very eager to make Japanese risk-averse savers into risk-taking investors. And this is good news," said Kingston, the Director of Asian Studies at the university. "In a sense the game is fixed. There's a backing for the stock market that probably controls against the downside," he says, citing the government's efforts to push more public pension money into the equity market.
Finance Minister Taro Aso said on Friday that he expects the value of the Japan Post companies to go even higher as being listed will bring more "discipline" from the market. He hopes the listings will lead to a "virtuous cycle for the economy as more minds shift from saving to investment," he said.
Japan Post Holdings slipped 3.6 percent to 1,755 yen at the close on Friday, still above its IPO price of 1,400 yen. The insurer lost 4.1 percent to 3,730 yen, after the government sold shares at 2,200 yen. Japan Post Bank fell 3.2 percent to 1,718 yen, from its initial price of 1,450 yen.
"At these levels, it's easy to want to take profits," said Shingo Ide, chief equity strategist at NLI Research Institute. "It went up so quickly over the past two days, it's possible we'll see more selling."
More Sales
Koichi Kurose, chief economist at Resona Bank Ltd., says the government still has a lot of Japan Post shares to sell, and history suggests that drumming up interest in future offerings will be harder. Policy makers plan to eventually put all of the bank and insurer into private hands, while at least a third of Japan Post Holdings will remain owned by the government.
"It was the government's proposal, so there was a sense of, 'we all have to really chip in'," Kurose said. "The pattern is usually that it goes well in the beginning, but when they do the second and third offerings, there have been many cases where it's gone badly. So what happens next is very important."
Before it's here, it's on the Bloomberg Terminal.
LEARN MORE