Yellen's Liftoff Call Just Got Easier as Wages Climb At Last
by and
Increase in average hourly earnings highest since July 2009

Wage pressure will reassure Fed that inflation to increase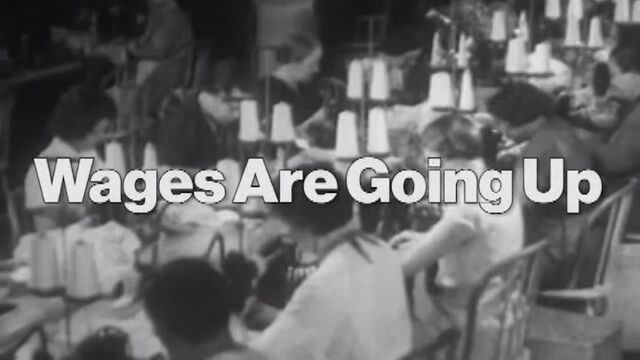 Janet Yellen should be feeling better about the U.S. economy.
Aside from a getting an October jobs report that exceeded just about everyone's expectations, the Federal Reserve chair saw evidence in Friday's monthly payrolls update that workers are finally receiving some of the wage increases that have eluded them in the tepid U.S. recovery.
Average hourly earnings climbed 2.5 percent in the 12 months through October, the most since July 2009. Wage growth had been stuck near 2 percent on average since the current expansion began that same month.
Stagnant wages have been a central concern among Fed officials and it's connected to their worries over weak price pressures in general, which have languished below the central bank's 2 percent inflation target for more than three years.

Wage Growth
At a March press conference, while noting that higher wages weren't a precondition for raising interest rates, Yellen said she and her colleagues nonetheless had their eyes on wage growth as they searched for signs that inflation might be poised to increase.
"If we did see wage growth pick up, that would be at least a symptom that inflation would move up over time," Yellen said back then.
Carl Tannenbaum, chief economist at Northern Trust Corp. in Chicago, said the wage data released Friday will be an important factor when the Fed decides whether to raise rates at the next meeting of the policy-setting Federal Open Market Committee on Dec. 15-16.
"Unless the November employment report is a real dud, or we have some significant international interruption, I think the Fed, as it's been strongly hinting for the last week and a half, is going to take that step in December, absolutely," he said. The Labor Department releases this month's payroll report on Dec. 4.
U.S. Treasuries responded sharply to the jobs report. The yield on the two-year note rose to as much as 0.95 percent, the highest since May 2010. It was at 0.89 percent at 11:31 a.m. in New York. The Standard & Poor's 500 index of U.S. stocks was down 0.5 percent.
Odds on a December interest-rate increase, measured by pricing in the fed funds futures market, rose to 70 percent from 56 percent on Thursday. The calculation is based on the assumption the effective fed funds rate will average 0.375 percent after liftoff, compared to 0.12 percent over the past month.

Live Meeting
Yellen told Congress on Wednesday the U.S. economy was performing well and a December rate hike is a "live possibility." In a statement after the Oct. 27-28 FOMC meeting, officials explicitly referred to an assessment the committee would make on whether to raise rates "at its next meeting." The Fed has held rates near zero since late 2008 to spur U.S. growth and hiring amid the worst recession since the Great Depression.
Roberto Perli, a partner at Cornerstone Macro LLC in Washington and former Fed Board economist, said Friday's payroll report could help officials feel more confident.
"They always said we don't need to see a massive pickup in average hourly earnings, but it has to be reassuring," he said.
The October FOMC statement reiterated that officials want to see some further labor market improvement and be "reasonably confident" inflation will rise toward 2 percent over the medium term before raising rates.
Movement on wages will also assuage one of the concerns set out by Fed Governor Lael Brainard in an Oct. 12 speech, in which she favored delaying a rate increase.
Bargaining Power
"The fact that wages have not accelerated is significant, but more so as an indicator that labor market slack is still present and that workers' bargaining power likely remains weak," she said.
Unemployment in October fell to 5 percent, the lowest since April 2008, after U.S. employers added 271,000 to non-farm payrolls. That rate matched Fed officials' median projection in September for the jobless level in the fourth quarter of 2015.
Economists at Barclays Plc in New York changed their prediction for the Fed's first rate move to December from March 2016. The October jobs report "suggests that labor markets have fully rebounded after slowing in August and September," Michael Gapen, Barclays's chief U.S. economist, wrote in a note to clients.
At UBS Securities LLC in New York, economist Drew Matus wrote in his own note to clients that the jobs news suggests it's "time to cancel December 16 vacation plans."
"Although there is still some time (and much data) to go before the December meeting, this report raises the odds of a move by the Fed at that FOMC meeting," he said.
Before it's here, it's on the Bloomberg Terminal.
LEARN MORE