Growth Potential
Has Bernie Sanders Peaked?
Despite an impressive start, the Vermont senator's presidential campaign may already be reaching its limits.
By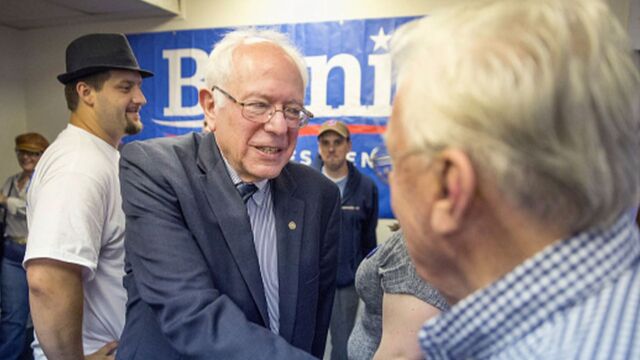 Bernie Sanders's long-shot bid to speed past Hillary Clinton and become the Democratic presidential nominee seems to have hit a rough patch. 
The Vermont senator's impressive, populist campaign has featured massive crowds, double-digit leads in New Hampshire, competitive contrasts with Clinton in Iowa, and steady growth in national surveys. Yet an analysis of the most recent polling numbers show that the self-described democratic socialist may already have peaked.
"Sanders is not so much declining, but has maximized his potential support and bumping up against his ceiling," said Ken Goldstein, a professor of politics at the University of San Francisco and polling analyst for Bloomberg Politics.
Nationally, the picture is improving for Clinton. Her lead shrunk to high single digits in two late-September polls by Bloomberg Politics and NBC and the Wall Street Journal. But after a strong debate performance and an unimpressive interrogation by Republicans on the House Select Committee on Benghazi, her lead has widened to as big as 31 points in last week's NBC/Wall Street Journal poll.
Early-state surveys have shifted in Clinton's direction. Sanders is trailing by double digits in Iowa. His lead in New Hampshire through August and September has since diminished or evaporated, depending on the poll. In South Carolina, Clinton leads by a whopping 71 to 15 percent in a Winthrop Poll released Wednesday.
History haunts Clinton. In 2008, then-Senator Barack Obama famously overcame a long-persisting double-digit deficit and defeated her in a grueling primary. But Obama had at least one major asset that Sanders does not: strong support among African-Americans, a crucial Democratic constituency.
"The overall Democratic primary electorate is composed of white liberals, union members, more moderate whites, African-Americans, and Hispanics, with the size of each of those groups varying by state," Goldstein said. "The math for Obama in 2008 was getting white liberals...and African Americans. Bernie has the white liberals but has no place else to grow—especially as unions fall in line behind Hillary Clinton now."
A Monmouth University poll in October found that 87 percent of blacks view Clinton favorably, compared to just 42 percent for Sanders. Among Hispanics, Clinton's favorable rating was 71 percent; Sanders's was 42 percent.
Sanders is also lagging in a metric that tends to be an important determinant of presidential primary outcomes: endorsements from party elites and leaders, the so-called "invisible primary." Numerous politicians and political groups that are ideologically close to Sanders have endorsed Clinton, including populist progressive Democrats like Senator Sherrod Brown of Ohio and New York City Mayor Bill de Blasio, as well as unions like AFSCME and the National Education Association.
A Sanders campaign spokesman didn't return a message seeking comment about his showing in the polls and plan for victory. Sanders has signaled a more confrontational approach with Clinton, raising questions in an interview published Wednesday by the Wall Street Journal about the front-runner's "character," citing her inconsistency on the Asia trade deal and pledges to regulate Wall Street despite receiving "large sums of money" from financial institutions.
In the Journal interview, Sanders conceded that he has "a long way to go" in winning over blacks and Hispanics. "But we're working hard," he said, "and I think at the end of the day we are going to pull off one of the major political upsets in American history."
Before it's here, it's on the Bloomberg Terminal.
LEARN MORE