Former Malaysian Premier Mahathir Questioned by Police in Probes
by and
Mahathir is under investigation for potential defamation

Mahathir has called for current premier Najib to step down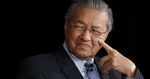 Former Malaysian premier Mahathir Mohamad was quizzed by police over his criticism of current Prime Minister Najib Razak, although he declined to answer questions.
Three officers took Mahathir's statement at a charity foundation where he has an office, and asked "general" questions for about 45 minutes, his lawyer Mohamed Haniff Khatri told reporters in Kuala Lumpur. While Haniff said the statement-taking "went well," Mahathir said he didn't respond to their queries.
"They asked questions, I said I will not answer any question," Mahathir told reporters. "That's all."
Authorities opened several investigation papers after reports were made against the country's longest-serving leader, Deputy Prime Minister Zahid Hamidi said last month. The probes relate to Section 500 of the penal code on defamation. Mahathir was represented by three lawyers and was advised not to answer some questions, Haniff said, adding he couldn't give details on what was asked.
Political Tensions
Mahathir, 90, has been on a public campaign to get Najib out even before a funding scandal linked to the prime minister fueled political tensions and led thousands of anti-government protesters to rally in the capital. The allegations against Najib have unnerved foreign investors in Southeast Asia's third-largest economy, contributing to a sell-off last quarter in Malaysian markets.
Police chief Khalid Abu Bakar has been reported as saying Mahathir would be questioned over comments he made at the anti-government rally held at the end of August. The former leader made brief appearances at the two-day protest organized by the Coalition for Clean and Fair Elections.
"I don't know" what I am investigated for, Mahathir said Friday. It's "up to them" to decide, he said.
No Support
Mahathir said over a year ago he was withdrawing support for Najib, citing worsening race relations and a tougher business environment after the premier took office in 2009. He warned the United Malays National Organisation -- in power since independence in 1957 -- risked losing the next general election if Najib stays as leader.
"I would like the UMNO members of parliament, the heads of division to remove him," Mahathir told reporters at the August protest, referring to Najib. "You are selling your soul, your country, your race. This country will end up being one of those countries where there is no governance."
He escalated his criticisms after the Wall Street Journal reported in July on hundreds of millions of dollars that ended up in Najib's private accounts before the last election in 2013. Najib has said the funds were political donations from the Middle East rather than public money, an initial conclusion also reached by the Malaysia Anti-Corruption Commission. 
Lawmakers will get answers to questions on the donations on the last day before parliament goes on a hiatus. Najib will either respond to questions himself on Dec. 3 or appoint a representative to do so, according to Jeevaratnam Pillay, press officer to a minister in the Prime Minister's Department.
Before it's here, it's on the Bloomberg Terminal.
LEARN MORE