Ex-BP Engineer Avoids Prison in Plea Tied to 2010 Gulf Spill
Della Hasselle and Laurel Brubaker Calkins
Engineer's lawyer calls case a ``terrible injustice'' by U.S.

Kurt Mix was accused of deleting texts to hide spill rate data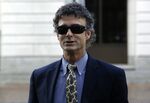 A former BP Plc engineer pleaded guilty to deleting text messages in what the U.S. said was an attempt to hide spill rate estimates during the biggest offshore oil disaster in U.S. history.
Kurt Mix faced as long as 20 years in prison if convicted at trial. Instead, he was sentenced to probation and community service Friday as part of a plea deal with federal prosecutors.
Mix was the first of four men charged with crimes tied to the 2010 catastrophe and its aftermath. He had denied Justice Department accusations that he intentionally hid that the flow rate was thousands of barrels more per day than London-based BP publicly disclosed.
Eleven men died after the blowout of the Macondo well in the Gulf of Mexico caused the destruction of the Deepwater Horizon rig above.
Mix pleaded guilty to a single misdemeanor charge in New Orleans federal court. As part of his plea deal, he received six months of probation and must perform 60 hours of community service. Mix got an earlier conviction thrown out last year because of jury misconduct. He was set for retrial Nov. 30.
Mix had worked "assiduously to stop the flow of the well," U.S. District Judge Stanwood Duval said in accepting the petroleum engineer's plea to the lesser charge. "This all occurred after the explosion at Macondo," the judge said.
Mix told reporters after his sentencing that he never obstructed justice when he deleted a text-message string with a co-worker who is a close friend about a year after the spill.
The messages were "almost entirely personal," and reflected discussions of lunch plans, yoga and sick pets, Joan McPhee, his lawyer, said outside the courthouse. At the time, BP had ordered employees to save all e-mail, texts and voicemails at the request of prosecutors probing the company's conduct.
"This case is a poster child for what the Department of Justice should never do," McPhee said. "The indictment of Kurt Mix was a terrible injustice. The public deserves an explanation for how the government got it so wrong."
Peter Carr, a spokesman for the Justice Department, declined to comment on Mix's plea or his lawyer's statement.
BP pleaded guilty in 2012 to 14 felonies and agreed to pay a $4 billion criminal fine for the spill, along with a $525 million civil penalty to resolve U.S. securities regulators' allegations that executives lied to Congress about the spill's size. This year, BP agreed to pay $20.8 billion over the next 18 years to settle all federal, state and local government claims for economic and environmental damage caused by the disaster.
BP's Macondo well gushed more than 3 million barrels of crude over an 87-day period in 2010. The massive slick killed thousands of waterfowl and marine animals, blackened the shores of five states, and closed huge swaths of the Gulf to commercial and recreational fishing. The company said this month it expects to pay "significantly" more than $11.8 billion through a separate settlement to compensate businesses and property owners for damages caused by the spill.
The case is U.S. v. Mix, 12-cr-00171, U.S District Court, Eastern District of Louisiana (New Orleans).
Before it's here, it's on the Bloomberg Terminal.
LEARN MORE