Etihad Offers Indians Inflight Showers on 3 1/2 Hour Jaunts
by and
Residence cabins priced at reduced rate on short-haul route

Discount aims to fill suites in world's cheapest travel market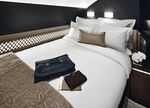 Etihad Airways PJSC is marketing its Residence suites on A380 double-deckers serving India at close to a quarter of the price they cost to the U.K., seeking to lure travelers into the industry's most luxurious cabins on 3 1/2 hour flights from the Persian Gulf.
The Residence berths on the Airbus Group SE superjumbo -- with a lie-flat bed, living area with 32-inch television, en suite shower and private butler -- will sell for about 346,000 rupees ($5,260) between Mumbai and Abu Dhabi when Etihad introduces the jets on the route May 1. The same cabin costs the equivalent of $21,000 for a one-way, eight-hour flight from the Gulf to London, based on website figures.
Etihad is betting that a taste of cut-price luxury will appeal to the Mumbai elite and the ranks of business travelers with interests in the Gulf, as well as wealthier members of the Indian expatriate community there. The Residence deal is still far from a bargain fare, with Bahrain-based Gulf Air offering tickets on the route for 11,762 rupees ($179), according to Makemytrip.com.
"We offer a choice of four travel cabins catering to different requirements," Etihad said in an e-mail. "This is one of our important selling points for India. If you don't offer choice, consumers will look elsewhere."
Onward Flights
While the Residence fare is keenly priced, most passengers to Abu Dhabi change planes for onward connections, so that a taste of the luxury product could help entice wealthier customers to shell out for the suites on flights to Europe and North America. Etihad also deploys the A380 on routes including London and New York.
The pricing strategy for the Residence should also help Etihad fill the two cabins on each superjumbo in a market that ranks as the world's cheapest for airfares. Passengers in India pay about $10.36 per 100 kilometers (62 miles), versus $138.90 in Finland, the most expensive, according to a study by GoEuro.com.
"There will continue to be a demand for luxury air travel, which really isn't about price but more about exclusivity and privacy," said Mark D. Martin, founder of Dubai-based Mark Martin Consulting LLC, which advises airlines in India, Southeast Asia and Africa.
Modi Pressure
The cost of flights to the Gulf may come down further after Indian Prime Minister Narendra Modi asked airlines for price reductions in September following complaints from Indian nationals in the Gulf about "exorbitant" fares during holiday periods.
Like Gulf rival Qatar Airways, Etihad, led by its Australian chief executive officer, James Hogan, has ordered relatively small numbers of A380s and made the double-decker the spearhead of a bid to attract top-paying clients.
In addition to the Residence suites, each of Etihad's superjumbos has nine seats in first class, 70 in business class and 415 in coach.
Vistara, the local unit of Singapore Airlines Ltd., has struggled to fill even two-thirds of premium seats in India, a country where more than 750 million people live on less than $2 a day. Tickets on Etihad's Mumbai-Abu Dhabi route will also be advertised under the code of Jet Airways India Ltd., in which it has a 24 percent stake, in a bid to boost sales.
Before it's here, it's on the Bloomberg Terminal.
LEARN MORE