China to Resume IPOs by Year-End as Stocks Enter Bull Market
Bloomberg News
New share sales were halted in July to support equity market

Resumption to hurt investor sentiment, Partners Capital says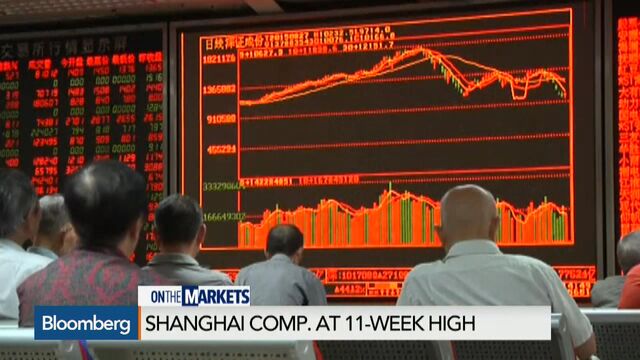 China will lift a five-month freeze on initial public offerings by the end of the year, removing one of its key measures of support for the stock market as equities recover from a $5 trillion rout.
New share offerings will restart after improvements to the listing system, Deng Ge, a China Securities Regulatory Commission spokesman, said at a briefing in Beijing. SGX FTSE China A50 Index futures dropped 0.7 percent at 7:21 p.m. in Singapore amid concern that new offerings will divert funds from existing equities.
The resumption suggests authorities are becoming more confident the stock market can stand on its own after the Shanghai Composite Index rallied back into a bull market this week. The move will also help Chinese companies tap into an important source of financing as they seek to cut debt levels from near record highs.
"There will be short-term damage to sentiment in the market," said Ronald Wan, Hong Kong-based chief executive officer at Partners Capital International. "But the government has to proceed with market reform and the timing for IPOs will be better now than next year as the market seems to have some strength."
Rescue Measures
The rally in China follows an unprecedented state campaign to prop up share prices, along with increased monetary stimulus to combat an economic slowdown. While the support has helped revive confidence among local investors, foreigners have been selling mainland equities through the Shanghai-Hong Kong exchange link for four straight weeks. The Shanghai Composite climbed 1.9 percent to its highest close in 11 weeks on Friday before the CSRC announcement, taking gains since its Aug. 26 low to 23 percent.

Unlike in most major stock markets, Chinese regulators control the timing and pricing of new listings. While policy makers have pledged to loosen their grip on the process, almost all of this year's deals have been priced at levels below 23 times earnings. The valuation cap has led to nearly guaranteed gains once new shares start trading, spurring investors to place bids worth hundreds of billions of dollars during each round of new listings.
Equity Financing
Ten of the 28 companies that were in the process of listing when the freeze began will restart the process after Nov. 20, said another CSRC official at the same briefing, who asked not to be identified because of agency rules. It will take two weeks for the 10 to complete the process, while the remaining 18 will sell shares by the end of the year, Deng said. Separately, the CSRC suspended Shenwan Hongyuan Group and China Galaxy Securities Co. from opening new investor accounts.
Before the stock market started tumbling in June, Chinese authorities had endorsed the use of equity financing as an alternative to debt, which becomes more difficult for many companies to repay as economic growth slows. The aggregate debt-to-equity ratio for companies in the Shanghai Composite rose to the highest level since 2005 in January, while the McKinsey Global Institute estimates corporate liabilities reached 125 percent of gross domestic product in 2014.
"IPOs have to be resumed given that the stock market should be functioning for companies to raise capital and that should help the economy," Wenjie Lu, a Shanghai-based strategist at UBS Group AG.
— With assistance by Tian Chen, and Kyoungwha Kim
Before it's here, it's on the Bloomberg Terminal.
LEARN MORE