Big Stud American Pharoah to Get $200,000 a Pop in Breeding Shed
by
Only one horse in America commands higher breeding fee

Stallions are typically bred about 100-to-150 times a year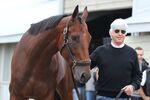 Triple Crown winner American Pharoah is already challenging stallion records just days into his retirement from the track.
Coolmore Stud, the Irish breeding powerhouse, said on Friday from Kentucky that it will charge $200,000 per mating session with the colt next year. It's an extraordinary amount of money for a thoroughbred that, while brilliant on the racetrack over the past two years, is entirely unproven as a sire.
Only one stallion in the U.S. has a higher stud fee than Pharoah's debut figure. Tapit, the sire of countless superstar colts and fillies, had a fee of $300,000 this past season. But to understand the full extent of the anticipation of American Pharoah the stud, consider that Tapit -- an accomplished, though somewhat fragile, horse on the track -- debuted as a stallion a decade ago at $15,000-a-pop. His fee would only surge as his offspring began to show their ability on the racetrack. Coolmore is banking on American breeders being willing to pay top dollar to send their mares to Pharoah without that evidence. (In a sign of how performance on the track is no guarantee of success in the breeding shed, the great Secretariat was largely considered a flop at stud.)
Typically, a stallion is bred to about 100 to 150 mares a year, meaning Pharoah, at $200,000-per-session, could generate more than $20 million in 2016 alone. By comparison, he earned $8.7 million on the track during an 11-race career that saw him become the first horse in 37 years to sweep the Kentucky Derby, Preakness Stakes and Belmont Stakes. The horse slapped an exclamation point on his career last week by coasting to an easy victory in his final race, the Breeders' Cup Classic.
"Hopefully somebody will drop another horse like this in my lap," Pharoah's trainer, Bob Baffert, said following the Breeders' Cup. "It's going to be a tough act to follow, I'm telling you what, but we're going to go back to work to try to find another one."
Pharoah's exploits on the racetrack have had a ripple effect throughout the farms in Kentucky horse country. The stud fee of his sire, Pioneerof the Nile, will rise next year to at least $125,000 from $60,000, and his grand sire, Empire Maker, is being brought back to the U.S. from Japan, where he had been sent after what was considered a disappointing start to his stallion career. Pharoah, meanwhile, figures to have many years ahead of him at stud. He is three years old today. Stallions can remain in the breeding shed until well after they turn 20.
Before it's here, it's on the Bloomberg Terminal.
LEARN MORE