What Will the U.K. Do in 2016?
The debate over membership in the European Union is heating up. Here are the main arguments.
By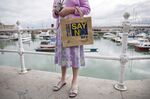 Stay
• The U.K. benefits from the EU's clout in trade deals with other large markets.
• EU membership means free movement of labor, giving the country access to a pool of skilled workers. Immigrants also contribute more than they take from public finances.
• Membership grants the U.K. open access to a market of 500 million people. Leaving would mean tariffs on 90 percent of its exports to the EU.
• Red tape is not a reason to leave. Britain has the most competition-friendly regulatory environment in the developed world after the Netherlands—another EU member.
• What does the rest of the world think? Although British voters may not care, President Obama warns that the U.K. must stay in the EU to keep its influence on the world stage. Chinese President Xi Jinping has also indicated he favors an EU that includes the U.K.
Go
• Leaving would free the U.K. to pursue its own trade deals with fast-growing economies. That should be a priority given Europe's poor economic performance.
• EU membership means free movement of labor, and the U.K. needs control over its borders to protect local jobs. Immigration also means Britons are subsidizing public services and welfare for newcomers.
• EU rules tie the economy up in red tape. Brexit would boost output by cutting the regulatory burden on businesses.
• Exiting would free the U.K. from hefty contributions to the EU budget. The Office for Budget Responsibility estimates the country's net contribution will be about €11.2 billion this year.
• The U.K. would have more influence on its own, regaining a seat at the World Trade Organization. Leaving the EU would allow more cooperation with the British Commonwealth without jeopardizing relations with Europe.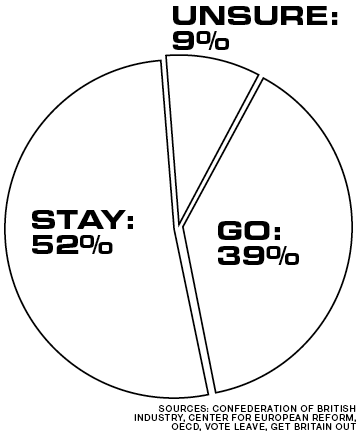 To sum up
Prime Minister David Cameron has promised a vote by the end of 2017, though it may occur as early as summer 2016. He wants to stay in the EU but hopes to renegotiate the terms of membership. Analysts say he'll try to limit the benefits immigrants can claim within the first few years of their arrival in the U.K. He also wants some protection against further political integration with Europe. Regardless of the outcome, the runup to the vote will affect the economy, with HSBC analysts arguing in a recent report that it should be held sooner rather than later to limit the "potentially damaging uncertainty" surrounding it. "I would expect a negative impact," says Thomas Sampson, a specialist in trade at the London School of Economics. "It's fairly well established that where there's more uncertainty, businesses tend to delay investment."

Before it's here, it's on the Bloomberg Terminal.
LEARN MORE