VW's New Emission Disclosure Under Review by German Prosecutors
By
Braunschweig prosecutors mulling whether to open new case

Investigation would be separate from diesel scandal probe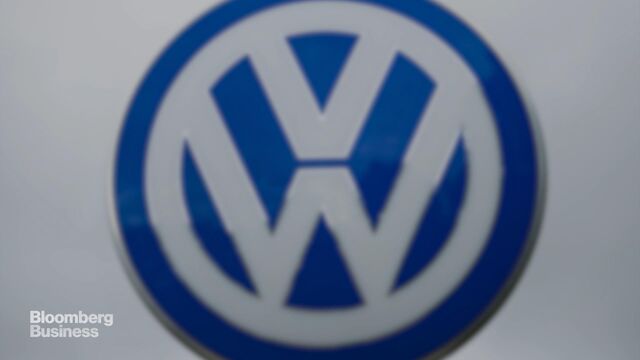 German prosecutors are considering whether to open a new criminal investigation into Volkswagen AG after the carmaker said it found faulty emissions readings in gasoline-powered vehicles and more diesel cars as a manipulation scandal widened.
Prosecutors in Braunschweig are already looking into VW's diesel products, and will examine the newly disclosed information with a decision on a new investigation coming by next week, spokesman Klaus Ziehe said by phone Thursday. A separate case would be necessary since the accusations involve other cars and other people, he said.
"We wouldn't be doing our jobs if we weren't looking at this," Ziehe said. "There's talk about cheating here, that's clearly a red flag for us."
VW said Nov. 3 an internal probe showed 800,000 cars had "unexplained inconsistencies" in their carbon-dioxide output. The automaker had already said that diesel-emissions cheating affected 11 million vehicles worldwide. The company said late Tuesday that the new finding could add at least 2 billion euros ($2.2 billion) to the 6.7 billion euros already set aside for repairs.  A VW spokesman declined to comment Thursday.
The shares of the carmaker declined 4.02 euros, or 4 percent, to 96.43 euros at 3:42 p.m. in Frankfurt.
Police and prosecutors swooped in on VW facilities and private homes last month in a dawn raid to gather evidence about who was behind the carmaker's decision to cheat on diesel emissions tests.
Three prosecutors and some 50 state criminal investigators searched the carmaker's factories and employees' homes starting in the early morning and continuing through the afternoon in Wolfsburg, where it's based, and elsewhere. VW said it will fully support the investigation. The company filed its own criminal complaint on Sept. 23.